Petition to communities secretary, mayor and council leader passes milestone
Opponents of proposals to knock down an "outstanding" brutalist car park in a prime part of central London have attracted more than 1,000 signatures on a petition calling for senior politicians to intervene.
Earlier this month Westminster council approved the demolition of Welbeck Street Car Park, just north of Oxford Street, for replacement with an Eric Parry Architects-designed hotel.
But a petition calling on Westminster council leader, Mayor of London Sadiq Khan, and communities secretary Sajid Javid to save the early 1970s structure has now garnered more than 1,000 signatures.
The petition is backed by the Twentieth Century Society and a recurring theme among signatories is the need for an imaginative use for the existing building to be found.
In March, government heritage adviser Historic England declined to support a listing bid for the structure, designed by Michael Blampied & Partners for the Debenhams department store group.
It said that while the building "stands out nationally as an exemplar of 1960s car parks", it did not compare well with "more striking and slightly earlier commercial buildings in the pop art movement".
The design and access statement accompanying the now-approved Eric Parry proposals to redevelop the 0.12ha site said the architect had examined the potential for reusing parts of the existing structure for a hotel but concluded it was not feasible.
The practice said that at 2.1m, the structural height of the car park's floors was very low, prohibiting the reuse of the existing building's frame, while reuse of its existing façade would entail "potentially costly re-engineering with a considerable loss of floor area".
It added that raising the existing building's façade so that its pre-cast diamond-shaped apertures matched with the new hotel's proposed floor levels had been considered, but differing dimensions between the car park levels and modern hotel standards meant "no suitable solution was found".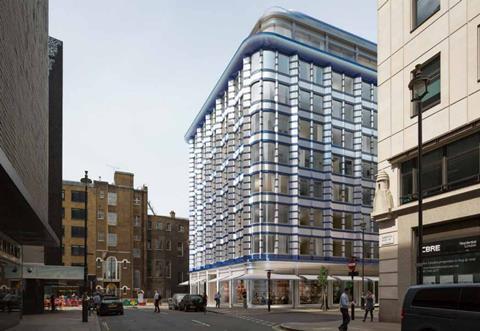 The C20 Society praised brutalism enthusiast Lee Mayne – who is not an architect – for starting the petition on the change.org website.
"I personally love this building, I can't help but take a picture every time I pass by," he wrote.
"Although I'm not attached to the idea of it staying a car park, I feel this building could very easily be adapted to another use protecting those beautiful diamonds.
"We are losing too many brutalist buildings of late, Robin Hood Gardens and Sampson House among many. Let's rally together to save this one!"
People from all over the world have signed the petition, with one describing it as one of the best facades in London.
Recommending the Parry proposals for approval, Westminster planning officers said the scheme was a high-quality building that would contribute positively to, and preserve and enhance, the character and appearance of the local area.
"This is a bold, eye-catching design, of high quality and it is considered acceptable in this location," they said.
Referencing the Historic England decision not to support a grade II listing bid for the car park, officers said the structure was "not of special architectural and historic interest".
They added: "Its contribution to the character and appearance of this part of the city is considered to be neutral and therefore it is not considered to be a heritage (designated or undesignated) asset."