Campaign group dubs Hopkins Architects' South Bank proposals 'bland' but damaging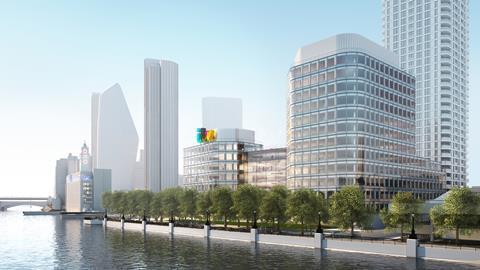 Hopkins Architects' proposals to redevelop ITV's London Television Centre tower have been berated for their blandness and impact on the capital's South Bank by campaigners.
The Twentieth Century Society is calling on Lambeth councillors to reject the TV company's plans to replace its current 88m landmark complex with a new 30,000 sq m development that includes a 104m residential tower and a replacement headquarters for the broadcaster. Planning officers are recommending the scheme for approval.
When ITV revealed its proposals to redevelop its 45-year-old home last year, executive chairman Peter Bazalgette said the building no-longer provided the space, facilities or collaborative environment the company required.
But ahead of a planning committee meeting next week the C20 Society said it was objecting to the proposals on the grounds that they would seriously compromise one of the most important riverside sites in London, and harm the setting of the grade II* National Theatre.
It said the two new buildings proposed, one of 31 storeys and the other of up to 14, represented a great increase in the massing of the current studios complex, and "failed to correspond to the strong horizontality of the neighbouring architecture".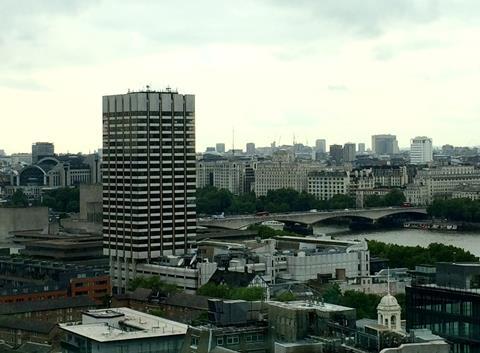 The society's letter of objection also criticised the Hopkins proposals for their "extensive and generic use of bland glass curtain walling, and the poorly considered way that the building relates to the riverside at Queens Walk".
It added that if approved the new buildings would "present a massive and impenetrable frontage to a prominent riverside location that is successful and significant due to its permeability and sense of openness".
C20 Society conservation adviser Tess Pinto said the reason the district was designated as a Conservation Area in 1982 was not only because of the national and international importance of many of the 20th century buildings it contains, but also because of the spaces around the buildings.
"They provide access to the river; an important pedestrian route; an area that can be read in conjunction with the arts complex; and attractive views of central London," she said.
"While the existing TV centre did not meet the criteria for listing, Historic England recognised the robust elegance of the building. The neighbouring IBM Building is currently unlisted but [the C20 Society] considers that it is a building of major significance and a potential candidate for listing.
"It is important to ensure sensitive changes to existing buildings and spaces, and that any new development is of appropriate quality to the status and appearance of the area.
"This is not the case with this proposed new development which we feel would seriously compromise the special qualities of the area."