Lambeth council backs proposals to redevelop a chunk of London's South Bank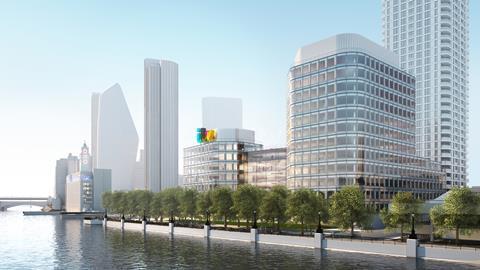 Hopkins Architects' plans to redevelop ITV's London Television Centre with a taller tower and replacement headquarters building have won planning permission from Lambeth council.
The proposals will replace the TV company's 45-year-old home with a two-part scheme that has a 31-storey tower with 213 new homes at the southernmost part of the site.
ITV's actual new headquarters building ranges from six to 14 storeys, with its tallest elements closest to the Thames. The scheme incorporates 44,434sq m of new office space, 3,632sq m of studio space, and 216sq m of new retail space.
Campaign group the Twentieth Century Society had opposed the plans, dubbing them "bland" and arguing the scheme would "present a massive and impenetrable frontage to a prominent riverside location that is successful and significant due to its permeability and sense of openness".
Nevertheless, members of Lambeth council's planning committee approved the application, as recommended by planning officers, at a marathon session last night.
Officers said that while the new blocks would be taller than the existing buildings and closer to Queen's Walk – the South Bank Thameside path, nearby buildings such as Sea Containers House and the Oxo Tower were of similar height to the headquarters element of the proposals.
"Although comparable in height to these existing buildings, the ITV headquarters would have a reduced visual impact in comparison to these buildings," they said. "The proposal would be significantly set back from the River Thames with a dense green screen in front reducing its visual prominence."
They added that the elevation of the scheme closest to the Thames would not have a continuous frontage because its two tallest elements were separated by a glazed atrium and differing heights meaning "the buildings do not appear in views as one large imposing block, but rather as individual well-proportioned buildings separated".
Officers said that the dimensions of the new tower were similar to the existing one "albeit slightly taller" – 104m compared with 88m, and that the proposed structure would be "more refined" with an "elegant silhouette".
They added that the principal material for the tower would be "a bespoke reconstituted stone façade" expected to match Portland stone as closely as possible.