Armed with new net zero carbon targets, Grosvenor and their architect tested these out on a tired 1980s office building near Sloane Square. Thomas Lane reports on how the team got on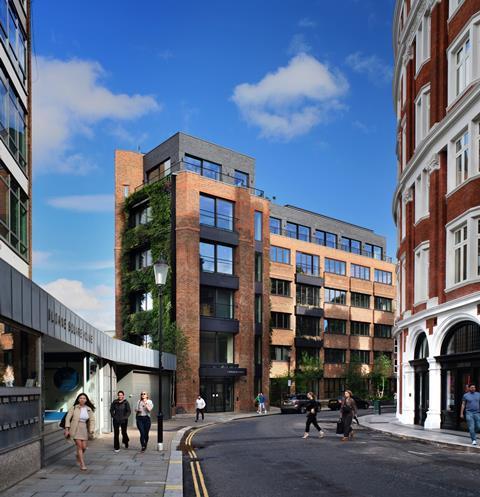 How to successfully turn tired old office buildings into net zero exemplars is the question every major developer is asking itself. Most of them have committed themselves to ambitious net zero goals thanks to occupier and investor pressure but now they have the difficult job of turning words into action.
Property group Grosvenor has been on this journey and has now completed its first net zero office building. Next door to London's Sloane Square tube station, 7 Holbein Place, which was completed in the 1980's, and not touched since, was tired, inefficient, and out of date. Built from a red brown brick, the five storey building with ribbon tinted windows and lead covered mansard roof would have been more at home in a regional town rather than one of London's most prestigious addresses. Knowing that it was getting full vacant possession at the end of 2019, in the summer of that year Grosvenor started weighing up what it could do with the site. "We looked at a variety of options to meet our estate needs and wider business strategy," explain Philip George, project director for Grosvenor. "We considered new build, conversion to residential, building over the tube station and joining up with the neighbouring building."
We saw this property as an opportunity to really trial everything the team had been talking about for some time

Tom White, Grosvenor
The business had recently set out its net zero commitments including reducing total carbon emissions by 52% by 2030 then 90% by 2050. This includes developing buildings that are operationally net zero by 2030 with an embodied carbon target of 500kgCO2e/m2. To implement these targets Grosvenor was in the process of formulating its sustainable development brief. Intended to help the supply chain meet the targets, the brief covers a wide range of sustainability requirements including resource use, biodiversity, social benefit, wellbeing, quality of place and climate resilience. Each heading is broken down into elements with the desired outcomes, requirements including targets and when action is needed.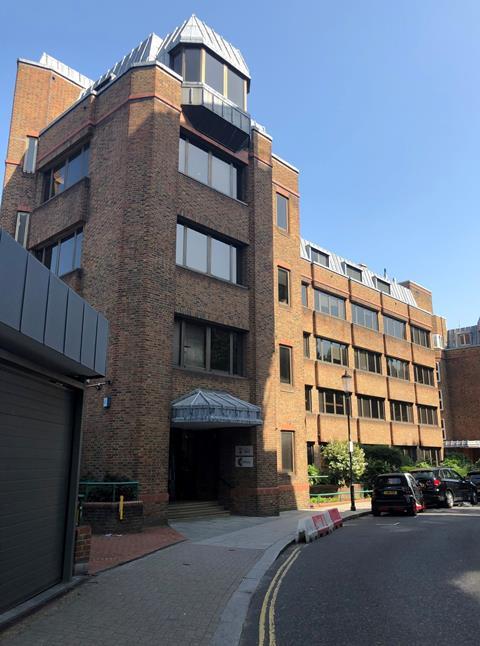 Grosvenor decided to transform 7 Holbein Place into a low energy office building that met the new net zero commitment and an opportunity to road test the sustainable development brief. "Whilst it hadn't been formally published it was very much at the forefront of everyone's minds," explains Tom White, Grosvenor's senior project manager." We saw this property as an opportunity to really trial everything the team had been talking about for some time. It was a great fit, the building had really good bones and it was a really good opportunity to test some of these key areas in the sustainability development brief."
Armed with the sustainable development brief, which was formally published at the beginning of 2020 Grosvenor and the consultant team worked up the design. This included removing the mansard roof, extending the building up a floor and adding another floor above that set back from the building perimeter to create an outside terrace. This increased gross internal floor area from 3,008sqm to 3,536sqm. The external landscaping would be refreshed, a green wall added to a side elevation with window boxes and planting around the rooftop extension to increase biodiversity. Plans included replacing the existing windows with new high performance versions matching the existing profiles. This including extending the windows down to floor level in the centre of the building with Juliet balconies for fall protection. Planning was applied for in August 2020 with permission granted in April 2021. White says the strip out, which took place in the first part of 2020 while the design was being developed, helped the team get a better understanding of the building, derisking the work so this was let as a single stage design and build contract to Blenheim House Construction.
The external walls and concrete structure were in good condition so were retained, saving 59 tonnes of CO2 compared to a new façade. Cavity walls were used for the façade between the columns and slabs, the thermal performance target of 0.22Wm2K was achieved by sequentially removing the internal blockwork to enable the cavity to be insulated. The concrete columns are built into the wall creating solid areas which were insulated internally with high performance aerogel blanket to mitigate the impact on internal floor area.
New red brown bricks were used for the additional floor to match the existing. White says Grosvenor tried sourcing reclaimed Staffordshire Blue bricks for the new top floor extension but new bricks had to be used as there weren't enough reclaimed ones available. The reclaimed bricks that could be sourced have been used for the new planters at ground floor level. A lime mortar has been used for the brickwork to facilitate easier future reuse.
Embodied carbon has also been reduced by using CLT for the new slabs between the fifth and sixth floor and the roof slab over the new extension. Steel beams and columns were used for the extension structure to keep the building within the planning height limits. Commenting on the project, Pradumn Pamidighantam, senior architect at Barr Gazetas, said: "At a time when the industry is grappling with the threat of stranded assets as occupiers and investors demand ever greener offices, Holbein Gardens demonstrates the huge potential for transforming outdated building stock into exemplary low-carbon workspaces."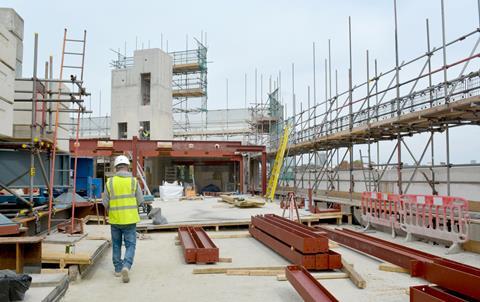 In a pioneering move, Grosvenor used reclaimed steel where it could for this structure. The steel used for the existing mansard roof, which was being demolished, wasn't up to the job so nine tonnes of steel was reclaimed from the Peek Freans factory in Bermondsey. The amount of steel that could be reclaimed from this site was limited for reasons including much of it predating 1970 which isn't covered by current guidance, the steel was encased in concrete making recovery difficult, or the sections were the wrong size. Another 15 tonnes of steel was sourced from Cleveland Steel. The history of the steel was scrutinized to check this hadn't been subject to heavy loadings or fire and checked for damage. To satisfy the insurers the steel was grouped into categories depending on its function and length and a representative sample from each tested for strength, elongation and chemical composition for warranty purposes. The old finishes were grit blasted off and new primer and intumescent coatings applied. In total 34% of the steel structure was reclaimed, saving 60 tonnes of CO2, a significant reduction on the overall carbon impact of the refurbishment.
The building is now all electric with heating and cooling supplied by air source heat pumps located in a small area on the roof with the rest of the plant in the basement. A mixed mode ventilation strategy has been employed so the concrete soffit has been exposed to increase thermal mass to help regulate internal temperatures. The building can be naturally ventilated by opening the windows when conditions are right, lights around the building indicate when the windows can be opened without losing energy. Of the design approach Pamidighantam said: "we pushed ourselves to interrogate every decision at each stage of delivery, and we believe the result is a building that genuinely pushes the envelope in terms of sustainability."
Carbon was also saved by sourcing reclaimed raised access flooring for the office areas and York stone for the external paving. White says the letting agents were initially unhappy about the reclaimed raised access flooring because this didn't look new. Painting the floor to smarten it up was considered but ruled out. "It seemed a waste of time, given the tenants would come in and put their carpets over the top," he says.
Overall, the upfront carbon impact of the refurbishment is 300kg/CO2e/m2 which beat the LETI 2030 upfront carbon target of 350kgCO2/m2. Barr Gazetas' Pamidighantam said: "By maximising retention, prioritising material reuse and introducing extensive greening, we believe we've delivered a blueprint for building adaptation and retrofit."
White estimates the sustainability measures added some 3% - 5% to the project cost. He warns these costs could be higher today because of increased demand and limited availability of reclaimed materials. "Reclaimed steel is one that everyone's jumping on. I'm working on another scheme at the moment and we are really struggling to source it," White says. "Suppliers will see this as an opportunity because businesses are valuing the carbon saving against the commercial uplift more than they might have done two years ago".
He adds that the challenges presented by using reclaimed steel is prompting Grosvenor to engage much earlier with the supply chain. There was a lot of back and forth communication between CLT supplier Eurban, who hadn't worked with reclaimed steel before and Cleveland Steel. "Had we gone to some of those subcontractors at an earlier stage there would have been fewer challenges in that regard," White says, adding Grosvenor is considering using a two stage route on the next project to promote earlier engagement. The company also expects 40% of its supply chain to have a science based target for carbon reduction and to date has helped 38 of its SME suppliers to map and reduce their own carbon footprint through its net zero mentoring programme. This should make it easier for firms to help Grosvenor meet its zero carbon objectives.
Renamed Holbein Gardens, the building has been leased to local firm Oakley Capital who will benefit from a 4.5* NABERS rating. The NABERS assessment shows the basebuild operational energy use should be 47kW/m2/yr which compares very favourably against the target of 70 kW/m2/yr with whole building energy use of 89-94 kW/m2/yr, again beating the target of 130 kW/m2/yr. White says Oakley Capital has signed up to a green lease and will use Grosvenor's sustainable fitout guide to reduce the impact of the fitout. White adds Grosvenor will support Oakley Capital in terms of running the building efficiently and maintaining the NABERS rating. Grosvenor has turned a tired old office building into a low carbon exemplar, a task that will become increasingly critical in the coming years.
Project team
Client Grosvenor Property
Architect Barr Gazetas
Structural engineer Heyne Tillett Steel
MEP engineer HDR
Sustainability consultant TFT
Cost consultant Leslie Clark
Contractor Blenheim House Construction
Steel specialist Cleveland Steel