With outdoor space at a premium, residential balconies are an important amenity. Kevin Wallis, head of sales at Marley Alutec, outlines the key pieces of legislation regarding fire safety for balconies and the implications for rainwater drainage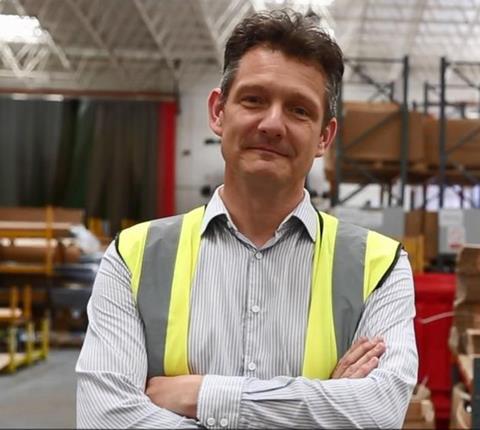 Understandably, when it comes to fire safety, the focus is often on cladding. However, the design and specification of balconies are just as important.
High-profile fires in recent years, including the Barking Riverside fire, have highlighted the need to ensure that the materials used for balconies do not contribute to the spread of fire. This means that all elements of the balcony, including the drainage system, must be carefully considered.
Guidance on the design of balconies for fire safety can be found in Approved Document B of the Building Regulations in England and Wales and Section 2 of the Building Standards in Scotland. British Standard BS 8579:2020 - Guide to the design of balconies and terraces, also provides best practice guidance in this area, as does the National House Building Council (NHBC) Standards.
Approved Document B states that on residential buildings with a storey 11 metres or more in height, balconies should be constructed using non-combustible materials - class A1 or A2-S1, d0. The same requirement also applies to any building with a 'residential purpose'. This includes hospitals, care homes, boarding schools, university student accommodation and hotels.
In Scotland, Section 2 of the Building Standards outlines a similar requirement for both domestic and non-domestic buildings with a storey over 11m in height. It states that any 'specified attachment', which includes balconies, solar shading and solar panels, must be constructed of products that achieve European Classification A1 or A2.
The aim of these requirements is to prevent the spread of fire on the outside of the building. For balconies, in addition to the risk of fire spreading upwards, there is also a need to prevent the spread of fire downwards. This can happen through burning materials or molten particles dropping onto projecting areas below, including other balconies. Due to the severity of the risk of fire spreading vertically from balcony to balcony, BS 8579:2020 advises that the use of non-combustible materials should be extended to buildings of any height that have stacked balconies. This includes balconies that are staggered but still overlap.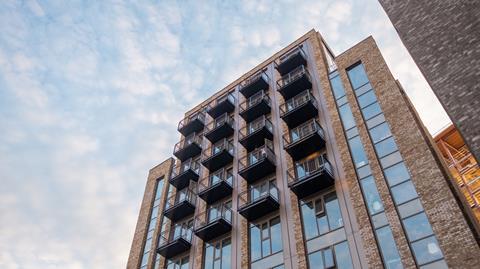 An important part of the balcony's construction will be the drainage system. Without the correct drainage in place, there is a risk that rainwater can collect on the balcony and allow water ingress into the building. For many buildings, piped drainage, where water is collected and sent to drain via outlets and downpipes, will be the most appropriate design solution.
BS 8579:2020 requires that balconies are designed with 'controlled drainage', which precludes the use of free drainage, where water is not managed but instead drains straight through the pedestrian surface of the balcony. The other type of solution permitted, in addition to piped drainage, is edge drainage, where water is collected and discharged from the balcony edge.
There are other considerations outlined in the standard that make piped drainage a better option for many projects. For example, the need to protect people, structures and landscaping below from dripping water. Where stacked balconies are edge drained, there is the need to manage the 'cascade effect', where water discharged from one balcony falls on the one below, concentrating the water on the lowest balconies. In addition, for inset or recessed balconies, piped drainage is the only option as edge drainage will not discharge the water far enough from the building and as a result, could cause damage.
When choosing piped drainage components, there is a relatively short list of materials that can be used to ensure compliance with the fire safety requirements. Aluminium is not only classified as non-combustible but also provides additional benefits such as longevity and durability. However, it is important to look carefully at the product as not all aluminium balcony outlets are the same in terms of product quality, flow-rate and compatibility with the rest of the rainwater drainage system. For example, a product manufactured from high-quality marine grade aluminium will deliver a longer, issue-free lifespan compared with products made of a less robust material.
Ease of installation is another key factor, especially on large-scale projects. Drainage products that can be easily adapted to different installation scenarios can help minimise delays.
With an increased focus on the fire safety of balconies, every element of the construction must be carefully considered. Alongside this, balcony drainage has an important role to play in protecting buildings from increasingly common extreme weather.
Postscript
Kevin Wallis is head of sales at Marley Alutec