In light of the focus on fire safety following the Grenfell tragedy, BSI publishes a new international standard for porcelain facades. Brian G Newell explains what this means for specifiers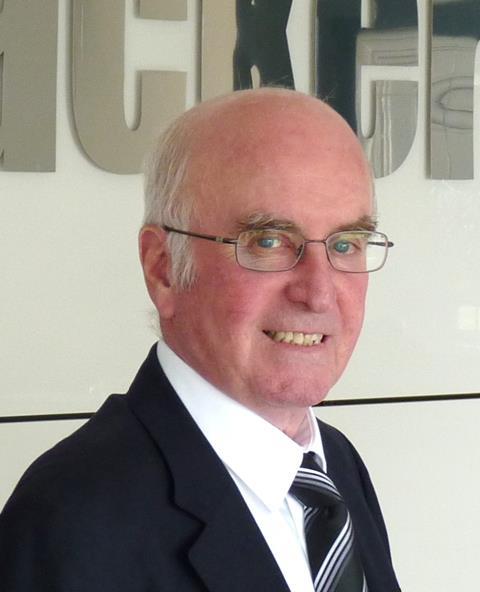 There has been a huge focus on fire safety in facade specification since the Grenfell Tower tragedy, and rightly so. But combustibility is not the only safety hazard that needs to be considered when specifying porcelain rainscreen systems.
As cladding system innovation has progressed, leading to much larger facade panel sizes, the need for precision and exacting quality standards throughout the manufacturing and installation process has become increasingly critical.
Porcelain is a lightweight, exceptionally hard, and impervious material, which makes it an ideal choice for building facades, providing both design flexibility and an extended low maintenance service life.
However, the lack of a standard to ensure quality assurance and reduce the margin for error at installation has heretofore resulted in the potential for poorly fabricated, poorly installed cladding that could compromise both the safety and service life of the facade.
Following ten years in development, BSI has published ISO TS 17870-3, which involved international consultation with stakeholders from across the facade industry. The standard applies to mechanically fixed porcelain cladding systems only and does not cover any adhered or partially adhered cladding systems.
Porcelain is a lightweight, exceptionally hard, and impervious material, which makes it an ideal choice for building facades
One of the key risk factors in any facade installation is the potential for site errors – a risk that increases if the facade system used requires on site fabrication.
While facade installers are skilled specialists, they are not experts in every system they have to use.
Moreover, site conditions are very different from an ISO 9001-certified factory environment, where all processes are quality assured, all equipment is checked and maintained, and contaminants cannot compromise drilled apertures for undercut anchors or connections for fixings.
To prevent the risk of poor fabrication practices and on site fabrication issues, the new standard requires that all porcelain facade systems are supplied as installation-ready panels. No drilling or fitting of undercut anchors or attached bracketry should occur on site, instead it should be carried out in quality-controlled and appropriately accredited factory facilities. Ideally, on site cutting should also be avoided or minimised.
This stipulation will avoid the potential for reduced undercut anchor pull-out values due to ill-fitting anchors or contamination, for example, which could result in latent fracturing of the porcelain or affect wind load resistance.
It will not only ensure improved installation quality but will also prevent the risk of large, heavy panels blowing off a building.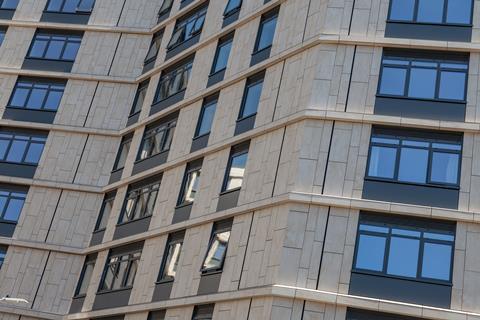 It is common best practice for facade manufacturers to apply an anti-fragmentation mesh to the rear face of porcelain cladding panels. While the standard does not make safety meshing mandatory, it does stipulate that any meshing used should be A1 or A2-s1 d0 compliant to BS 13501-1.
As porcelain is usually A1 rated for non-combustibility, this ensures that all ISO TS 17870-3-compliant porcelain facade systems are suitable for residential buildings taller than 18m.
Where a system has been specified with apertures formed through the body of the panel to receive mechanical end fixing devices for attachment to the facade substructure, the standard stipulates that the fixings should be fitted to allow for anticipated thermal expansion and contraction.
This ensures that there is sufficient allowance for movement between the large format panels and the fixing system during all climate conditions, preventing stresses from developing within the facade system that could result in damage.
For edge-slotted systems, the standard allows for flexibility in the thickness of the facade panel, but recommends that the remaining front and rear edges of the slot walls should be a minimum of 5mm thick.
It also recommends that this type of fixing should be avoided for very large porcelain facade panels, as the spans between perimeter fixing points may be too large to achieve adequate restraint against negative wind loading. Once again, clips should not fit too tightly to prevent anticipated differential thermal expansion/contraction.
To prevent the risk of poor fabrication practices and on site fabrication issues, the ISO TS 17870-3 standard requires that all porcelain facade systems are supplied as installation-ready panels
Visible overlapping clip systems – where the clips overlap the porcelain facade panel around its perimeter and fix to the facade support structure – are also not considered appropriate for very large panel formats. Designers should consider the size of the panels as well as the anticipated performance requirements for the facade. The minimum panel thickness for this type of system should be determined by the span between clips without deflection or deformation of the panel, under maximum wind loading, along with the facade system manufacturer's advice.
Pay close attention to the section of the standard that deals with impact resistance and testing, as all porcelain materials differ. Large format porcelain cladding panels should be proven to resist hard and soft body impact testing as their vulnerability varies depending on the location of the building and the location on the building. More significant and frequent impact is likely at lower levels where the building is more vulnerable to pedestrians, traffic and thrown objects.
All fixing components should have a high level of corrosion resistance, enabling them to retain their properties with little or no maintenance during the lifespan of the facade, which should be related to, but not necessarily the same as, the facade.
It is not possible to itemise every point set out in the new standard in a single article, which is why it is important for those with principal designer responsibility to scrutinise ISO TS 17870-3 in full.
Cladding manufacturers should also be familiar with the standard and ensure that their facade systems deliver the best practice safety and quality values stipulated.
Postscript
Brian G Newell MBE is the chief executive officer of Shackerley and the technical lead for the new porcelain cladding standard published by BSI