From specification requirements to the challenges that can arise when working with the material, we ask Toby Marlow about the properties of cast stone and what designers should consider when specifying the material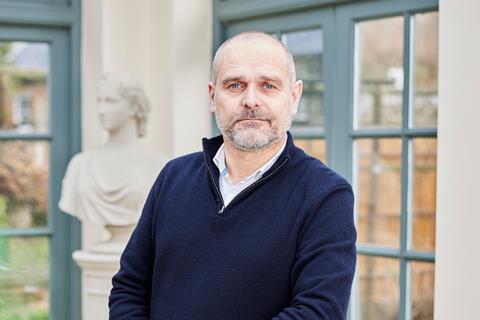 Cast stone dates back to ancient Rome – when pozzolanic cement was utilised – before becoming widely used throughout Europe.
While the earliest example found in England can be seen in the grade I-listed Sutton Place in Surrey (built c.1525), the invention of Portland cement in the 19th century led to a number of patented 'artificial' stones.
Since then, cast stone has become a widely used alternative to natural stone. Building Design spoke to Toby Marlow, building and construction director at Haddonstone, to find out more about the material.
Can you explain the difference between cast stone and natural stone?
Natural stone has been excavated from the ground via the process of quarrying, whereby stone is raked from the exposed surface of natural rocks. As an organic material that has undergone many years of geological change, natural stone is unique and offers subtle or significant variations in grain, texture and colour.
Today, the most common natural stones that are extracted are limestone, marble, granite, slate, sandstone and travertine. Once excavated, these stones are cleaned, cut into varying shapes and sizes as required, and finished.
Cast stone, by contrast, is a special type of reconstructed stone, produced using a blend of limestone, pigments, additives and cement. The mixture is then poured into specially created bespoke moulds before being cured and/or finished. In construction, cast stone is often preferred due to flexibility of installation and adaptability to create structural components. It is regularly used as an alternative to quarried stone as it looks, performs and weathers similarly to natural stone, but at a fraction of the cost.
Cast stone is also chosen over natural stone for its strength, colour, texture and for its freeze/thaw resistance. As it is free from the naturally occurring imperfections and stratification found in quarried stone, it is more versatile and adaptable than its natural alternative.
Most manufacturers aim to create cast stone that resembles natural stone as closely as possible.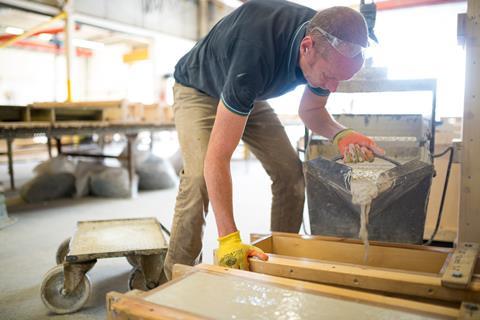 What is cast stone made from?
The constituents used to produce cast stone include:
Natural aggregates
Cementitious binder (often white cement and sand)
Water
Pigments (for colour matching if required)
Waterproofer
Colour and material which matches existing stonework is possible, making cast stone the ideal choice for restoration, renovation and retrofit projects.
What specification is cast stone manufactured and supplied to?
Reputable companies are members of the United Kingdom Cast Stone Association (UKCSA). All materials used by UKCSA members, therefore, exceed the strict levels of technical performance requirements of BS 1217:2008, BS5642-2: 1983 + A1 2014 and BS EN 13198: 2003.
Colour and material which matches existing stonework is possible, making cast stone the ideal choice for restoration, renovation and retrofit projects.
Are there different types of cast stone? How do they differ?
Yes, there are three types, as described below:
Semi-dry cast limestone. This is a unique form of cast limestone, with a surface texture, feel and strength similar to Portland or natural limestone. The principal materials are limestone, white cement and sand. This stone is packed into the mould either by hand or a pneumatic hand rammer. No finishing is required due to the quality of the mould manufacture and casting, resulting in a look that's virtually indistinguishable from natural quarried stone and weathers beautifully. A vapour curing process gives the stone the equivalent of 14 days' strength overnight which results in reduced delivery lead times and improved handling.
Wet-cast limestone. This is a denser type of cast stone, made of larger particle sizes, and exhibits a higher water content which means it doesn't need vapour curing. The wet-cast limestone mix is poured into a mould and hand finishing is necessary at the end to ensure a high quality product. The process gives a finish, once acid-etched, much more akin to Coade stone. It has a smooth and sealed surface which makes it ideal for flooring, fireplaces, complex statuary and contemporary designs where clients prefer a surface finish that does not weather quickly. Designed to meet demanding performance criteria, as wet-cast limestone can incorporate structural reinforcement, it tends to be the preferred material for architectural projects requiring structural strength as well as cast-in fixings.
Fibre-reinforced cast stone. This revolutionary cement-based material contains alkali-resistant glass fibre reinforced concrete (GFRC). Although it closely resembles cast stone in appearance, the use of thin wall construction teamed with GFRC technology means the component weight is reduced by approximately two thirds when compared with semi dry and wet cast stone. Its high strength-to-weight ratio makes it ideal for retrofit, timber frame and new build projects. It can also be used to achieve the same crisp detailing normally achieved with semi-dry cast limestone designs.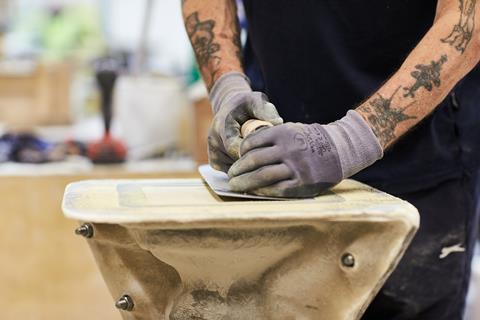 How is cast stone most commonly used in architectural projects?
Cast stone can be used for a broad array of architectural projects because components are made in moulds that can be created bespoke, depending on the specifiers' requirements. This means it is the ideal material for facade stonework (porticos, door surrounds, columns, quoins, corbels and gable vents); wall dressings (plinth and string course, cladding, plaques, pier caps, copings and gate piers); window dressings (heads, cills, keystones and surrounds); and landscaping (steps, paving, balustrade, parapet screening, garden buildings).
What are the benefits of specifying cast stone?
Cast stone has a similar look and performance to natural stone, at a fraction of the cost. It's durable, sustainable, boasts high compressive strength and designs can be replicated at volume quickly. The material can be structurally reinforced and there are a broad range of design options available.
What are some of the challenges that arise when working with cast stone? And how can these be overcome?
Creating structural units with cast stone can be challenging, however, this is an advantage over natural stone. Haddonstone's in-house manufacturing team frequently produces the steel cages and bars required to provide additional structural reinforcement to many of our clients' weight-bearing components.
Manufacturing units with undercut profiles that cannot be struck from timber or similar moulds are no problem; utilising fibreglass and rubber moulds enable the mould to be peeled away from the undercut without damage.
Manufacturing large structural units demands additional reinforcement to the moulds to resist the additional forces of the mix during filling.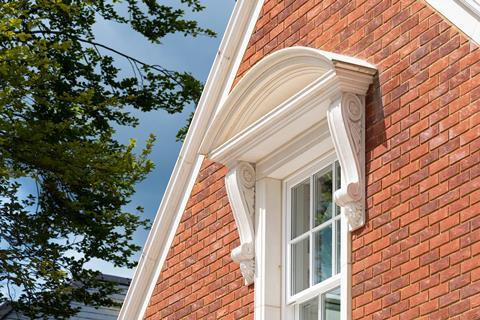 What is the average lifespan for cast stone? Can it be reused or recycled at end of life?
Cast stone will last for decades. Some early examples of concrete (and cast stone) use are still intact from the Roman period. Scrapped or rejected stone can be crushed down and companies/parties can utilise these as aggregate and hardcore.
Does cast stone need sealing? Are there maintenance requirements?
Cast stone does not need sealing as buildings are designed to be watertight in their own right. Sealant is not necessary as cast stone will weather the same as a natural stone product. However, if weathering is to be minimised, a clear masonry sealant can be applied. Good quality cast stone includes waterproof additives in its mix which prevent water absorption.
Cast stone can be cleaned and it is recommended that a low-pressure high temperature (DOFF cleaner – brand name) system is used for this. Many installation companies/partners can offer maintenance and cleaning services as part of their installation packages. Alternatively, a proprietary diluted masonry acid cleaner can be used to the manufacturer's instructions.
What should specifiers consider when choosing their cast stone supplier?
Material considerations include:
High quantity of natural limestone constituent in the material
Limestone should ideally be sourced from an ethically responsible supplier
A range of high specification cast stone material options to suit any requirement
Cast stone should meet or exceed British manufacturing standards
Manufacturer considerations include:
Manufacturer should be a member of the UKCSA
A project team that maintains complete control of the design, manufacturing and delivery of stone
Specialist pre and post-project support with honest and exact lead times
Able to provide the details of trusted independent contractors able to offer a comprehensive installation service
A production facility that caters for anything from lightweight retrofit designs to large structural units
For restoration and replication projects, expertise in the latest in 3D technology, as well as more traditional techniques
Postscript
Toby Marlow is the building and construction director at Haddonstone