Stuyvesant Street Townhouse is a four-story single-family residence located in St. Mark's historic district in the East Village in New York.
Designed by Lang Architecture, the project illustrates one of principal Drew Lang's specialities: reinvigorating historic townhouses.
The team worked closely with the client and contractor, Think Construction, to create a functional living space with ample natural light while also paying homage to the building's history.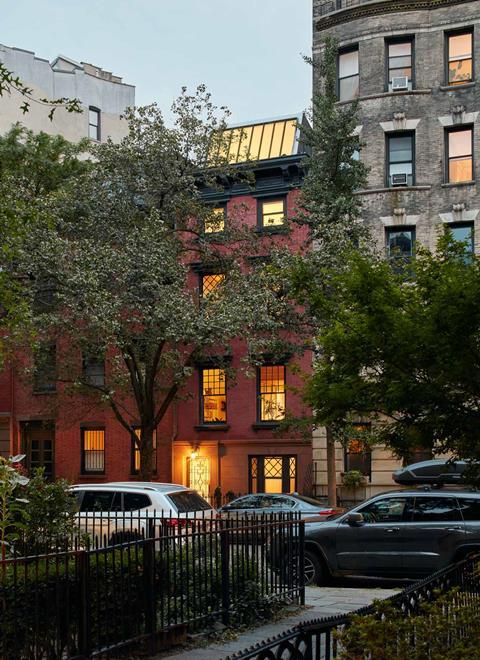 The project focused on the parlour floor with the creation of a centralised kitchen flanked by a dining room and living room on either side.
In the rear wall, on the garden side of the home, an opening – made of steel and glass – was designed to anchor the parlour level with an abundance of natural light.
A tri-fold door helps to blur the line between the interior and exterior, inviting not only light in but also the seasonal colours of the trees outside.
The design team restored the Townhouse's historic staircase and the stair segment in front of the window wall now features a steel section of treads amid the restored wood elements to further maximize visibility through the space.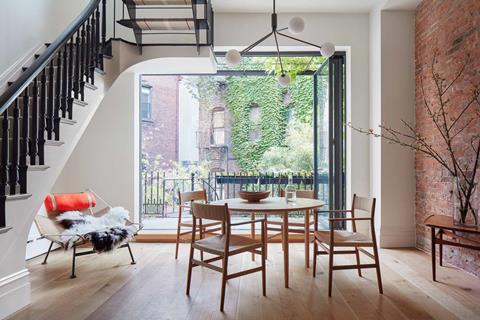 The combination of a calm colour palette and classic elements create an elegant East Village home, with the wooden slatted ceiling said to be one of the team's favourite features.
Preserving the character of a Townhouse brings both a layer of excitement and additional challenges to each project.
When asked about his experience working on New York townhomes, Lang said: "Townhouses have a special presence in the city. Their intimate scale, relationship to the street, private gardens, and expressive details, among other qualities, have helped drive a renaissance in townhouse living in New York."
Architect Lang Architecture
Location New York, USA
Contractor Think Construction
Kitchen Miele
Furniture Modernlink
Paint Benjamin Moore
Tapestry Margot Becker
Tile Nemo Tile
Stylist Rebecca Bartoshesky
Video 1504