The masonry support system by ACS is a patented design combining wall tie, masonry support and cavity tray in one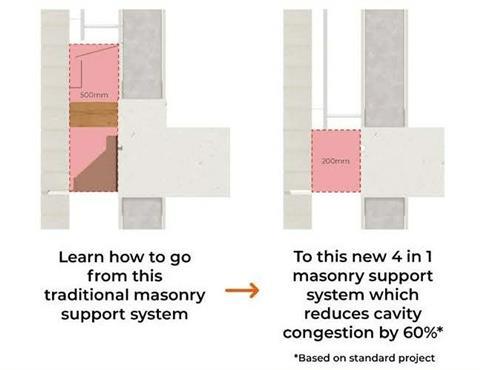 Yorkshire manufacturer ACS Stainless Steel Fixings (ACS) has launched Intex Fire Protect – in a bid to set a new standard for masonry support.
The combined masonry support system incorporates four components in one design – which the design team claim reduces install time by 40%, while reducing congestion by up to 60%.
Building Design attended the product launch event in Bishopsgate, London. The afternoon centred around a Q+A on the Building Safety Act, with speakers from NHBC, Building Alliance and BBA in attendance to discuss the role of the industry in creating safe and sustainable structures post-Grenfell.
Intex is a patented design combining wall tie, masonry support and cavity tray in one, with an added open state fire barrier mechanically fixed to the cavity tray.
The product has undertaken fire testing at Warrington Fire and achieved a test value of over 120 minutes integrity and over 90 minutes insulation. It is warrantied for 12 years with a 60+ year design life.
Paul Ruding, specification director at ACS, said: "Intex is a game changing system which brings peace of mind to everyone involved on a construction project – from installers to architects, main contractors to warranty providers. It helps to eliminate a host of problems that can lurk between masonry panels and the internal structure.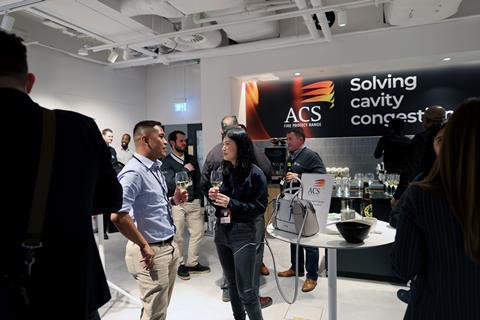 Ruding continued: "It has been created to overcome previous issues of overly complex design, cavity congestion, incompatible parts and incorrect installation. It is ergonomically designed, making it easy for installers to handle and fit, with the added bonus of reducing deliveries and storage space onsite by up to 32%. This doesn't just dramatically speed up the installation process, it gives complete peace of mind that components are compatible and every one of them is doing its job."
Made with 90% recycled steel and 100% recyclable, Intex is available as a three-in-one solution.
ACS has earned a reputation in the market for providing innovative solutions. The manufacturer is vocal about its commitment to reinvesting its profits back into product research and development as it aims to support specifiers with new solutions for high rise structures that meet changing Government legislation.