From conservation to sustainability and humanitarian architecture, Yasmeen Lari has massively expanded the language of architecture, writes Susan Roaf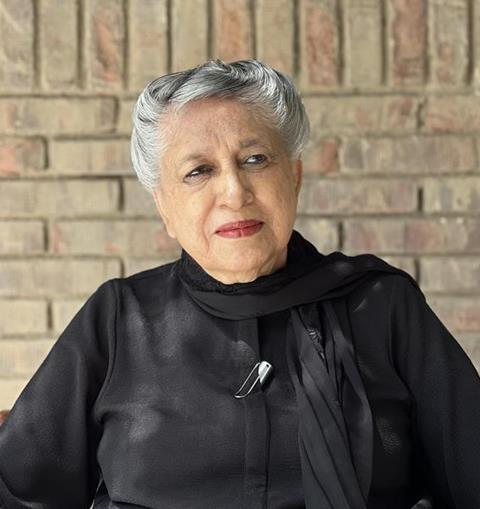 Yasmeen Lari has been awarded the 2023 RIBA Royal Gold Medal, one of the world's highest honours for architecture. Her extraordinary story sheds light on the past and present history of architecture, and also provides a guiding light forward for our profession in a heating world.
Educated in Britain she moved gradually from being a high profile corporate architect in her native Pakistan to her current work in ameliorating living conditions there for some of the poorest communities on the planet. Where does such a life-changing drive come from?
It is important to understand not only what she has done but also why she has done it. Yasmeen's father was a high-level, British-trained bureaucrat in the Indian Civil Service. The family were imbued by the dominant western culture of the time, but it was her deeply religious mother who probably had a greater influence on her development over time.
The family followed the colonial tradition of moving from the scorching plains to the cooler hill climes of the north for the entire summer, accompanied by an entourage of attendants and baggage. It was there she first came into contact with the power and beauty of nature, a treasured connection.
Sent to England to attend university she gained a degree in 1963 from the Oxford School of Architecture, where Reginald Cave was then head. She immersed herself in life in Oxford, fondly remembering tutors who taught her how to design buildings in western styles, only occasionally referencing designs from her own cultural traditions.
The corporate architect in Pakistan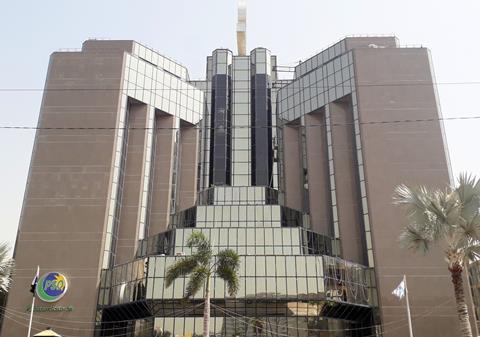 Yasmeen started work in Pakistan in 1964 and joined the RIBA in 1969, already on course to her "first career" as a leading and fashionable young architect, largely engaged with projects for elite clients and the corporate sector. She was well placed to do so, having met and married Suhail Zaheer Lari, an Oxford PPE graduate who worked in the family insurance company.
She admits she spent little time then thinking about the unmet needs of the disadvantaged people around her. Instead, she largely adopted conventional western design approaches in what became a stellar career.
In 1978 she became president of the Institute of Architects Pakistan and then the first chair of the Pakistan Council of Architects and Town Planners in 1983. Her namesake architectural firm designed some of the most iconic Pakistani projects of the time including the concrete, glass and steel Taj Mahal (now Regent Plaza) Hotel in 1981, and the headquarters of the Pakistan State Oil Company in 1984.
The Heritage Foundation of Pakistan
Surrounded by so many extraordinary vernacular buildings, she developed a growing appreciation that "good design" was not exclusively an attribute of western architecture, or the sole right of the wealthy. Instead, she saw that historic buildings were often wonderful at many scales, and could be re-used and learnt from to add value to settlements and also improve the lives of the disadvantaged.
So she moved into her "second career", as a successful heritage architect, learning ever more about how buildings can keep people safely comfortable in local climates using local materials. While still largely designing for elite clients and the corporate sector, and drawing on family funds, she and Suhail established the Heritage Foundation of Pakistan in 1980 to research and document Pakistan's cultural heritage.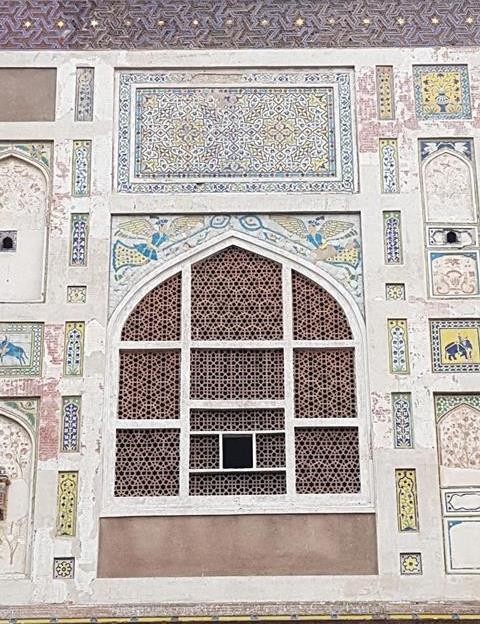 Their seminal book on the Traditional Architecture of Thatta was primarily a labour of love, with text by Yasmeen, photographs by Suhail and measured drawings by her architectural studio. Suhail subsequently sold the family company and began his new life as an historian.
By 2000 Yasmeen also decided to tail off her architectural practice, continuing only with the conservation of historic buildings, like those at Makli and the Lahore Fort, both World Heritage sites. The foundation was thriving, working tirelessly to record, catalogue and publish on many of the 19th and 20th Century British colonial and post-colonial buildings of note in Karachi, Lahore and Peshawar.
She was by then an internationally recognised expert on Pakistani vernacular buildings and the national advisor to UNESCO for the World Heritage Site of Lahore Fort. The urgency of preserving many fast disappearing historic buildings resulted in her lobbying extensively for the protection of the urban historic fabric, which led to some 600 buildings of the colonial period being catalogued by the Heritage Foundation and listed under the Sindh Preservation Act of 1994.
Rejecting the "international colonial charity model"
It was the humanitarian tragedy of the 2005 Kashmir earthquake and seeing first-hand the devastation faced across the region that drew Yasmeen into her "third career". After using the 500,000 rupees (approximately £1,500) she had arrived with to help in the emergency, she was able to continue with help from a host of volunteers, students and young architects from Pakistan and abroad who arrived in batches.
Contributions poured in and the Heritage Foundation registered as a non-profit charity. Deeply affected by the experience, she began to see that architecture had a vital role to play in dealing with the once occasional humanitarian tragedies that are rapidly becoming the norm due to climate change.
Pakistan is highly exposed to the hazards of climate change and most communities have multiple vulnerabilities to the impacts of earthquakes, heatwaves, massive floods and energy poverty. It was increasingly clear that everywhere required more resilient buildings, but that these were only of real use within resilient communities, at the heart of which were often resilient women. Undervalued women in those poor societies often took the lead under duress in protecting the family.
An initial struggle was to find affordable shelters for extreme conditions. After experimenting with many different construction techniques, building with locally sourced debris and materials, she found that using local builders and skills proved workable in providing safe homes while minimizing the damage to local and global environments.
Funding was always a challenge. Flaws emerged when operating within what she described as "the international colonial charity model". The UN funding silo system 1proved entirely inappropriate and unsustainable, creating a dependency culture focused on enhancing the international agencies' own importance in the disaster relief cycle.
Once the funding stopped, the work stopped. Her team developed an operating system based on "barefoot social architecture", searching for a more widely applicable and durable methodology. Consequently, since 2005 the Foundation has established several training centres focusing on training of local artisans and Barefoot Eco Entrepreneurs.
In 2020 Yasmeen started a Zero Carbon channel on YouTube, on which a large number of step-by-step self-building tutorial videos were uploaded and began to be used by local NGOs. Since the devastating 2022 flood she has put all her own resources, and those of the Heritage Foundation of Pakistan into developing, promoting and educating as many as possible on how to build resiliently in the face of a warming, catastrophe-prone future.
Her ambitious target is to work with 500,000 communities in one year
The aim is to prepare populations to be able to protect and rehabilitate themselves, and the nature around them, against and in the wake of floods, fire, food and energy shortages and ever more extreme weather events. Using her own and sponsor's funds, she often funnels support, including materials and equipment directly into the stores and bank accounts of her network of village Mothers Committees in co-operating communities.
Her ambitious target is to work with 500,000 communities in one year, despite admitting that she cannot rely on funding being provided from elsewhere. In April 2023 she launched her Zero Donor Villages programme. Implemented by trained Barefoot Eco Entrepreneurs, it addresses potable water, food security, sanitary lavatories and self-built houses by training communities to be self-reliant in using local resources, knowledge sharing and capacity building.
One path forwards – toward a more humane architecture
In answer to the question of what drives her, Yasmeen claims it is not anger, so much as deep anguish at the injustices around her in the Global South and also the eco-bigotry she finds in the Global North. She has often talked about the need to provide social and ecological justice for the marginalized, and has spent the last forty years of her life working for just that. But her extraordinary story sheds a light on another reality.
During the colonial period, Britain exported its own systems of government, architecture and lifestyles overseas in order to exploit the resources of foreign lands. However, over time, the colonial buildings were gradually adapted to local climates to enable people wearing European clothes to occupy them comfortably without much dependence on energy supplied from grids, if any. Yasmeen's "second career" was spent recording many of them, and wonderful buildings they were too, as I know from having helped record a number for her in Peshawar myself.
But think about it. Yasmeen's "first career" involved the international exportation of what I call "techno-colonial" building, propagated originally by the American air-conditioning industry to sell their products into other countries, regardless of climate. This way of building relied on Corbusier's dream of an international style of architecture 'avec une respiration exacte' – the same indoor temperature anywhere in the world.
In her "third career" she has become a role model for what architecture might contribute to improving the lives of the many, not the few
That dream was to be powered by (nuclear) energy that would be "too cheap to meter". Buildings were forced into a thermal straight jacket of comfort standards that meant a US businessman in an office suit could be comfortable indoors anywhere in the world.
These were the glass, steel and concrete buildings of her corporate design life. But she grew beyond them because of her humane empathy for the real needs of the populations around her. In her "third career" she has become a role model for what architecture might contribute to improving the lives of the many, not the few.
Ninety-nine percent of humanity is now becoming poorer and ever more vulnerable to extreme weather events, soaring energy prices and financial collapses. Many hard-earned lessons have shown her that issues around community resilience must lie at the heart of ways forward in now protecting populations in buildings across the world.
What a strong contrast her narrative presents compared to those of corporate architects still selling techno-colonial buildings around the world – the glass box or sculptural designers who are ruthlessly happy to put 100% glazed towers everywhere from Siberia to the Gulf, apparently unaware of their impacts on all of us. She makes them perhaps appear to be "unevolved" thinkers, stuck in their first careers.
What our futures will be like is unclear. Climates will be much more extreme. Hopefully it will largely be about climatically appropriate buildings, based possibly in part on the colonial buildings of Pakistan recorded by her Foundation. Covid-19 also taught us another key lesson that she well understands - that no one is safe until everyone is safe.
Not everyone has had the resources and opportunities that Yasmeen has had in her privileged life, but she has used those gifts wisely to show us how much of a difference one single person can make to improving the lot of the many. Her story shines a bright light on how important truly, honestly, genuinely resilient thinking and actions now are to communities and buildings everywhere.
Yasmeen Lari was awarded the 2023 RIBA Gold medal and on the 26th of May she will receive an honorary doctorate from her old school at Oxford Brookes University. For the scale of what she has achieved in all three of her careers, and the vision she has provided for the important role that architecture can play in an unpredictable future, I personally think she deserves an even higher recognition.
The Nobel Prize doesn't have a category for architecture, but the built environment is now on the frontline of efforts to secure global peace and save the planet for human habitation. I believe Yasmeen would be a worthy nominee for a new category of humanitarian architecture.
Also read >> Yasmeen Lari awarded 2023 Royal Gold Medal
Postscript
Susan Roaf is Emeritus Professor of Architectural Engineering at Heriot Watt University, Edinburgh. She is best known for her work on adapting buildings and cities for climate change. She has written and edited 22 books on sustainable design and climate change adaptation, including Adapting Buildings and Cities for Climate Change, by S. Roaf, D. Crichton and F. Nicol, Routledge, 2009.