Matthew Wickens reviews two recent books on Kay Fisker, the renowned Danish architect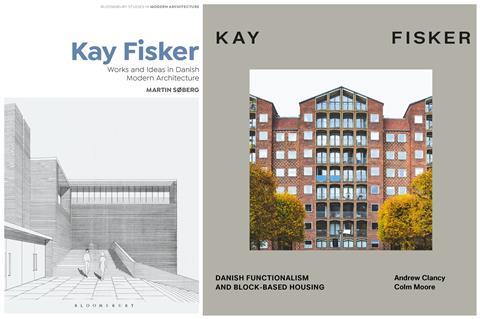 It turns out, you wait 60-plus years for an English language book about Danish architect Kay Fisker, and two arrive at once! Until now English-speaking fans of Fisker have had to console themselves with the 20-page summary at the back of Hans Erling Langkilde's 1960 monograph Arkitekten Kay Fisker. We had been placated with a study of his Danish Academy in Rome in 2006 but a thorough going monograph of his wide-ranging activities is timely. These titles serve to fill that gap, especially in the English-speaking world, and also form a sound basis on which to further develop an understanding of Fisker's oeuvre.
Martin Søberg's Kay Fisker: Works and Ideas in Danish Modern Architecture is part of a Bloomsbury series which is trying to highlight lesser-known figures of 20th century architecture. The series also includes volumes on Ernesto Nathan Rogers, Karl Langer, and Sibyl Moholy-Nagy, with others to follow. One suspects these figures are well known in their native, or adopted, lands but thorough English language coverage was previously scant. The series editors Tom Avermaete and Janina Gosseye have chosen well, and one hopes a plethora of previously under-appreciated figures, especially those of minority backgrounds, as well as more women architects, can rightly be brought back into the light.
From Søberg we learn Kay Fisker was a key figure in 20th century architecture and was involved in the construction of c.200 buildings, as well as graphic design, furniture and silverware design, exhibition design and liner ship interior design, in addition to becoming professor at the Royal Danish Academy. His presence is felt all the way from Nordic Classicism before World War I, through inter-war modernism, working for Lewerentz and Asplund on the Woodland Cemetery, to post-World War II welfare state modernism.
Although clearly moving through different phases (as Clancy and Moore's three housing examples demonstrate) and in part because he was working with different partners, all of his work was infused with a concern for a regionally appropriate materiality, as well as massing and scale. He advocated that these concerns were part of a 'functional tradition' that was part of a golden thread that ran through Danish architecture, if only one looked close enough, and studied it well – as Clancey and Moore's students evidently have.
Fisker's 'functional tradition' was not the same as that advocated by the post-war AR through Eric de Maré's photographs of warehouses and dockside structures, but a form of modern construction infused with an awareness of both international trends and regional idiosyncrasies. It bears a striking resemblance to what would later become known as Critical Regionalism, as advocated by Kenneth Frampton.
But Fisker's concise, erudite, cogent explanation bears repeating, "Architecture will always be subject to certain regionally determined formal requirements. Climate and mentality, the materials at the site and other conditions vary greatly around the world, and each region has its own natural form of expression. This is why architectural form is determined locally, but is also international, independent of coincidental, national borders." The quote is taken by Søberg from Formprincipper (Principles of Form, 1956) one of three volumes published of Fisker's notes from lectures he gave at the Royal Danish Academy in the 1940s and 1950s.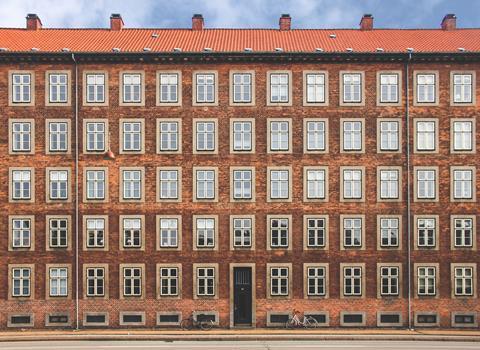 Hornbaekhus (1920-21) is the most famous of his early perimeter blocks, of which we'll speak later, but in Søberg's book we learn this phase comes to an end with Gullfosshus (1927), in part because the period of State Housing Foundation support dwindles but also as trends from the continent move-in. Gullfosshus is unusual in its grouping of windows as they respond much more directly to the use behind, including stair half-landings and the resultant zig-zag window pattern is further played up by grouping the apertures into bays of 3, rather than evenly spacing them along the façade. The result is a much 'jazzier' façade (Søberg's term) with graphic play giving rhythm and contrast.
By the late 1920s, Fisker was working in partnership with CF Møller. They designed Vodroffsvej 2-4 (1928-30) on a triangular site that slopes across its width. The building's nickname is 'The Layer Cake House' as this level change is accommodated in half-level changes across the site, which are then articulated in different brick colour strips separated by continuous strips of glazing. The influence of contemporary German projects is clear and the fact that Fisker had recently visited Bruno Taut and Erich Mendelsohn in Berlin, might well explain the scheme's development away from a version much more like Gullfosshus's individually framed windows with a pitched roof.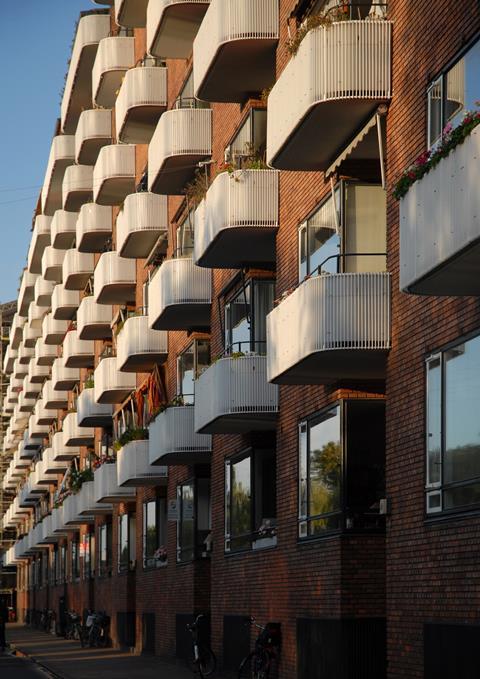 Vestersøhus follows in 1935-39, and extends a whole city block alongside a lake, as documented in Clancy & Moore's book. Although the (very long) façade appears homogenous, the edifice nevertheless contains twenty-six different types of apartments of different sizes, between one and eight rooms. Like Hornbaekhus (but not Gullfosshus) Vestersøhus represents a tension between what is communicated externally and the interior life and organisation of the building. Every apartment has a balcony and a bay window distributed evenly.
Yet towards the rear of the building, this regularity dissolves, and rooms shift and combine in a much more 'organic' way. The detailing is key, with balcony railings made from vertical cast-iron rods, painted white, forming rounded corners so as to provide the long, repetitive façade with a softening element. The rounded corner motif is repeated throughout the building, for instance in the tread of the stair and the transition between wall and window in the stairwells.
Built just after the war in 1949-1951 Kobbelvaenget was part of Voldparken in Husum. Situated in northwest Copenhagen it was one of the largest housing developments in Denmark during the 1940s, comprising 1200 apartments. Kobbelvaenget consists of twelve blocks of either three, five or seven storeys, arranged orthogonally, like Fisker and Møller's famous Aarhus University.
As ever, the facades were very carefully composed and an architect in Fisker's office at the time, Finn Monies, is quoted by Søberg, "We were working on some large façade sections and thought they looked quite nice, but there was something about it that did not quite work. Fisker sat for a while and looked at it and made some comments about the proportions of a window, a shift to the side, the height of a balcony, and a few other apparently not vey major changes, and in no time at all it just said Kay Fisker right across the façade section and the entire building."
Fisker's final building, the Danish Institute in Rome was completed 2 years after his death in 1967 and stands as sound testament to his skills. Søberg recounts in his final chapter, "Fisker's aim was nevertheless not to copy or emulate, but simply to create buildings so refined, reduced and objective that they would seem to transgress the contingencies of a particular period of time."
Søberg concludes arguing that the influence of Fisker's works and ideas are still present in contemporary Danish Architecture. For instance in the way Dorte Mandrup rearticulates traditional thatching in her Watten Sea Centre in Ribe (2017), or BIG's social housing complex on Dortheavej in Copenhagen (2017).
In his projects, Fisker was informed by historical examples and attempted to extract different lessons to the historicist and national romanticist architects of a previous generation. Measurement of historic buildings helped him and his generation of architects to gain a better knowledge of Danish architecture and its traditions. It is fitting, therefore, that a group of MArch students from Queen's University Belfast followed in the master's footsteps and were marched off to Copenhagen in 2016 by Andrew Clancy and Colm Moore to carefully measure and record three of his key housing projects - Hornbaekhus (1920-21) and Vestersøhus (1935-39) as already mentioned and Dronningegården (1943-58).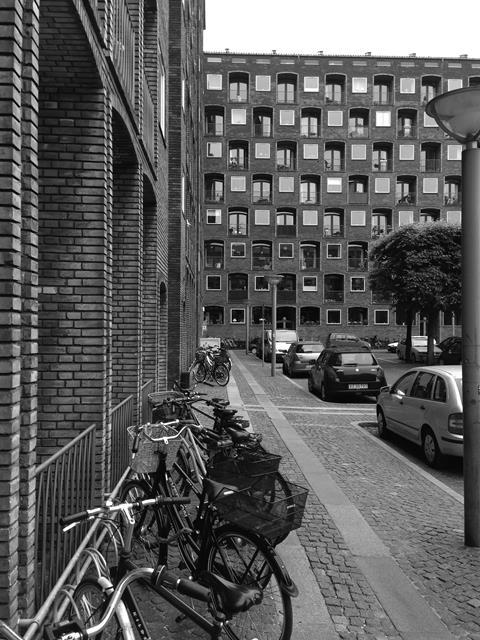 In 2018 those fortunate enough to attend the Architecture Biennale in Venice entitled Freespace may recall that the Central Pavilion in the Giardini, hosted Close Encounter: Meetings with Remarkable Buildings, a part of which was entitled An Infrastructural Architecture. It consisted of a set of triangular seats and a bound collection of carefully executed, and beautifully redrawn drawings of buildings by Fisker. Visitors may have found themselves wondering, as this writer did, how can I get a copy of this lovely object?
Alas, no copies were available in the biennale bookshop – but you can now satiate your need with Kay Fisker: Danish Functionalism and Block-based Housing. Which has at its core the students' careful redrawing, but has subsequently been augmented with essays and reflections by Martin Søberg; Poul Sverrild; Job Floris; Tony Fretton; Clancey & Moore; and an English language translation of Fisker's lecture 'The Moral of Functionalism'.
In Andrew Clancy's introduction he informs us, "This is not a book about theory, or history, although both are contained within it. More simply it is a documenting of three housing projects in detail so that the latent knowledge inherent in their fabric can be better read, understood, and appreciated." – Fisker himself would be proud.
In their final 'response' Clancy & Moore recount, "Fisker worked with what was available, from brick to timber windows. In each case the works he made were not rarefied in their conception or construction. It was in the assembly of ordinary things that their qualities as architecture were derived, their specialness not in any one part but in the sum of these parts. The repeated elements – if taken on their own – are well formed, but hardly worthy of investigation; it is in their assembly in a critical mass that something happens." – the same could be said of this publication.
It would have been remiss for Clancy & Moore to have excluded Søberg's authoritative voice and he contributes an essay entitled Kay Fisker's Classical Principles for Modern Housing. In a period where 'Starchitecture' still seems to pervade too much of the discussion around building, we learn from Søberg of Fisker's classically apposite words, "In what has been termed Fisker's architectural testament, the essay 'Persondyrkelse eller anonymitet' ('Cult of Personality or Anonymity') published in the Danish journal Arkitekten in 1964, he points to the architect's obligation to subordinate themself and their artistic will to the needs of human beings rather than attempting to create the spectacular: 'We must remember that those architects who order our cityscapes and our landscape, and who manage to create a human environment with decent housing as the setting for a good way of life, are worth more to society than those who create individual and sensational works of art.'" Making both these titles compulsory reading on all architecture courses in the country would be a good place to start.