26-storey Cambridge House block will deliver 92 new homes
BPTW Partnership has finalised its planning permission for a 26-storey residential tower on one of Croydon's principal streets.
Its Cambridge House proposals, drawn up for affordable housing provider Notting Hill Genesis, will deliver 92 new apartments on the site of a four-storey office building on Wellesley Road.
Practice director Chris Bath said the scheme – which completed its section 106 planning obligation agreement last month and received its finalised decision notice – had been designed to be respectful of the "existing modernist vernacular" evident in central Croydon.
He said the scheme would make "a significant contribution to Croydon's emerging context" and "offer high-quality urban living to all residents". Some of the flats will be triple aspect.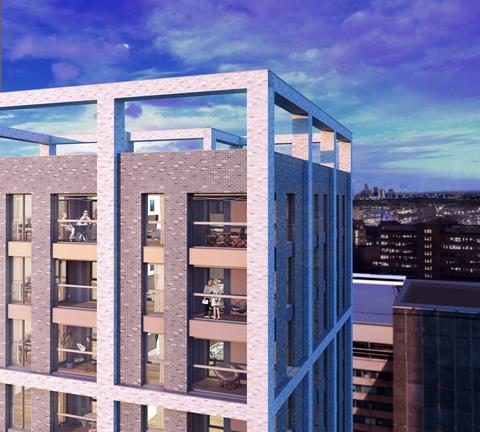 BPTW said the scheme used a white brick frame as the primary element of its façade, extending above parapet level to form a projecting crown to the building.
Grey brick panels of varying shades sit within the frame, adding texture, while white reconstituted stone columns at ground level present pedestrians with "a tactile experience of high-quality materials".
BPTW said that the "tight nature" of the site meant that 80% of the new homes were dual or triple aspect.
Henry Construction has been appointed to deliver the scheme.