Practice set to design interior of expanded international departure lounge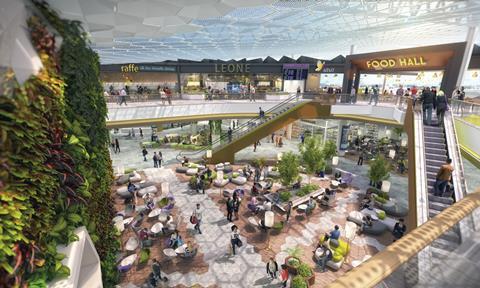 Benoy has been appointed to draft proposals for the international departure lounge being created as part of the £1 billion expansion of Manchester Airport's Terminal 2.
Earlier this year the practice landed the role of commercial masterplanner on the Heathrow Airport Expansion, while its first terminal – Changi Airport Terminal 4, in Singapore – is due to complete in the second half of the year.
Benoy said its design work at Manchester would cover around 32,500sq m across two levels and would feature new dining, retail facilities and passenger seating, with an innovative double-storey green wall acting as the centrepiece.
It said bee and hexagonal honeycomb patterns had been proposed for the departure lounge's glass ceiling and feature wall designs, as "a symbol of the North of England's industrious past and present".
Benoy executive director David Coyne said creating a sense of place was "incredibly important" in airport design and that the practice wanted passengers to feel as though they were in Manchester, "as opposed to any airport in the world".
Benoy said the public-facing elements of the Terminal 2 expansion were expected to be visible from 2019.