Flats for Westminster council will restore street line
Bell Phillips has won planning for a council housing development in Marylebone, central London.
The 49 flats, which will wrap around a communal garden, are in the Lisson Grove conservation area of Westminster, two blocks from Tony Fretton's seminal Lisson Gallery and opposite a grade II* church.
Known as Cosway Street the scheme, on the 0.26ha site of two redundant post-war buildings, will restore the street line.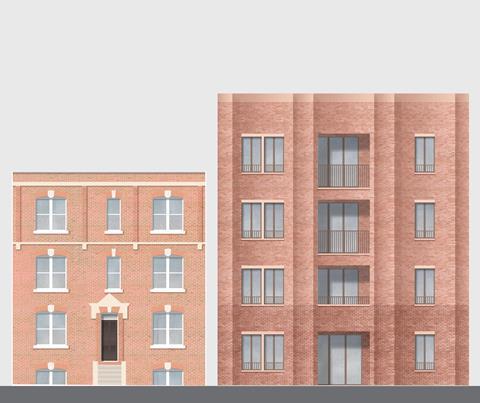 The architect said the scalloped brick facades would reflect the rhythms and proportions of the surrounding streets through subtle variations in dimension and tone of brick.
The dwellings are designed to be open-plan to maximise daylight to all spaces and have high ceilings. A green roof with solar panels tops the development.
The project for Westminster council is part of its Church Street regeneration programme and also includes two family houses on nearby Ashmill Street.
Westminster's senior development manager, Iain Savill, said: "Set in a sensitive and high-profile location, the Cosway Street and Ashmill Street development provided its challenges to the design team. As project architects, Bell Phillips worked closely with the client, multiple stakeholders and the local community to deliver an outstanding design that will make a meaningful contribution to the Lisson Grove conservation area."