Architectural historian Elain Harwood pounds Paris streets to raise cash for 'comprehensive' book on brutalist practitioner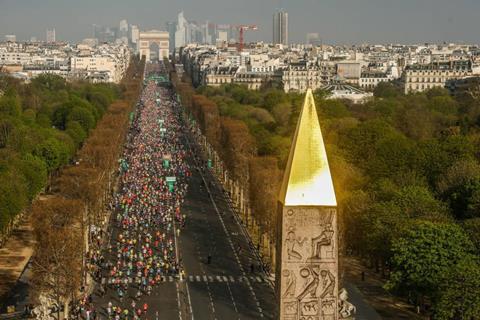 Many writers would describe the process of publishing works as a marathon effort, but Elain Harwood can make the claim both literally and figuratively.
At the weekend, the architectural historian ran the Paris Marathon to raise cash towards the £5,000 she and fellow Twentieth Century Architects series editor Alan Powers need to get their "short but comprehensive" volume on Ernö Goldfinger into print.
Government heritage adviser Historic England is now publishing the series, which already has 13 titles in print, including Harwood's book on Barbican and Golden Lane Estate architects Chamberlin, Powell and Bon.
Harwood said Historic England had specifically requested a volume on Trellick Tower and Balfron Tower architect Goldfinger, but required the £5,000 contribution from the Twentieth Century Society to go towards the cost of publication.
"We have spent hours in the RIBA archives and unearthed much new material," she said. "HE have supplied new photography and it should be a great celebration. But the society has to support Historic England."
She said the book would explore Goldfinger's work from his earliest student days to the dramatic late works for the London County Council, including Balfron Tower and Trellick Tower.
Powers is writing the early part, to the Second World War, and has unearthed new material on Goldfinger's early work in England, including a house in Essex and his own home in Willow Road, Hampstead.
Harwood has written the post-war chapters, looking in detail at Goldfinger's little-known private houses, and then at how he achieved critical acclaim for his office buildings.
"To balance existing books, we are focusing on Goldfinger's career rather than his life, though they are heavily intertwined, and we promise to produce something that is entertaining to read as well as informative," she said.
Sunday's Paris Marathon was Harwood's first – although she did a 10km run for Cancer Research in memory of Gavin Stamp in February.
Since then, Harwood has undertaken Goldfinger-themed training runs along the London waterways that link Trellick Tower in North Kensington with Balfron Tower in Poplar, east London, then on to Alexander Fleming House – now known as Metro Central Heights – at Elephant & Castle.
However she said March's ice and snow froze out plans for a run that would have linked those three Goldfinger landmarks via Willow Road, flats designed by him in Primrose Hill, and an office development in Albemarle Street.
Harwood's Paris run brings her Goldfinger-book total to £1,300, but her crowdfunding page is still open for donations. She finished in a time of 4:33:10.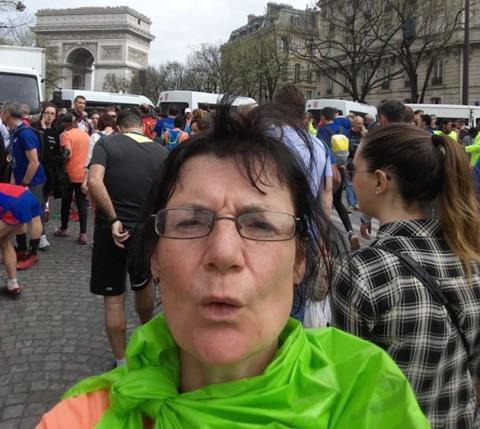 More than 43,000 people joined her in taking part in the marathon. Kenya's Paul Lonyangata was first to cross the finishing line with a time of 2:06:25. Betsy Saina, also from Kenya, was the first woman runner past the post with a time of 2:22:56. Neither was understood to be supporting a book on 20th-century architecture.
Crowdfunding is becoming an increasingly necessary means of supporting the publication of architecture books. The Architecture Foundation is currently using the approach to finance a title on British housing architecture, based on lectures given by Neave Brown, Kate Macintosh, Peter Barber, Witherford Watson Mann and Farshid Moussavi.
British architectural publishing faced a further blow in January when specialist Artifice and sister publisher Black Dog Publishing went into insolvency, placing a question mark over the future over several publications in production for a number of architects.