Bristol development will deliver 49 affordable homes and two 'common houses'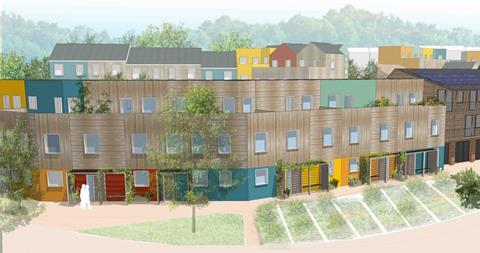 Architype has won planning permission for a £6.7m co-housing scheme on the outskirts of Bristol that will be developed by a community group and a housing association.
The scheme will deliver 49 affordable homes and two "common houses" on an abandoned and overgrown site in the city's Lockleaze neighbourhood.
Architype said the proposals, drawn up for Bristol Community Land Trust and housing association United Communities, had needed to overcome a number of access issues and problems related to the sloping topography of the site.
Project architect Elly Deacon-Smith said the development's architectural language had been strongly influenced by its future residents, who would be self-finishing their homes to improve viability, and the "famously colourful and varied" Bristol vernacular.

"We are delighted that this unique and innovative community scheme has been granted planning permission; this is a great result for both the local community and the city of Bristol," she said.
"We have hugely enjoyed the process of working with the clients and the BCLT residents group to develop a truly collaborative scheme. We hope that the delivery of Shaldon Road Co-housing will set a new benchmark nationally for low-cost, sustainable and affordable housing."
Common houses – where residents can organise shared meals and other events – are core to the original Danish philosophy of co-housing, in which the need for private space is reduced because of shared facilities.
Architype's layout comprises a shared surface avenue that sweeps through the site, with the houses strung along the contours of the slope.
The practice said its landscaping proposals incorporated sections of existing wild land and "generous areas" of usable recreational common land.