Latest step in renewal of Sheffield icon 'will complement' Stirling-shortlisted first phase
Mikhail Riches has won planning for the second phase of the renewal of Park Hill in Sheffield.
The scheme will provide 199 flats, the majority of them with two bedrooms, and 21,000sq ft of commercial space at ground level.
All the flats in phase 2 will be for sale at full market prices, despite the original 1960s scheme being social housing. Together the two phases of regeneration will contain about 30% social, affordable or intermediate flats.
In phase 2, Mikhail Riches said it had taken an overall light-touch approach, retaining and repairing successful parts of the fabric such as the concrete frame, brick infill panels and party walls. Bedsits will be eliminated to meet modern space standards, creating new knock-through units with double-width balconies.
After noticing that some residents had personalised their flats by painting their balconies, the architect recognised this desire to be able to identify your own home within the regular grid of the exterior.
Each front door will be painted the same colour as the balcony reveals, with each flat given its own subtly different hue.
Another detail discovered by the architect was the use of small squares of patterned lino, bought by residents to personalise their front step. Mikhail Riches has supersized these patterns, integrating them into the new surface of the streets in front of each doorway to create delineated space for each flat.
Full-height sidelights to the front doors will create a visual link from the flats on to the "streets in the sky" outside which will themselves be repaved with a rubber crumb surface to reduce noise.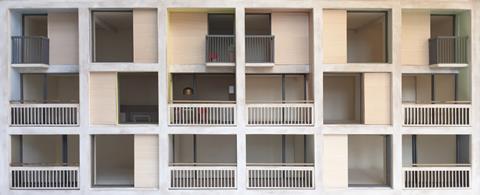 A new double-height lobby will be created within the base of the existing building, providing access to the flats and a newly landscaped residents' garden. Existing goods lift shafts will be glazed and new passenger lifts installed to provide access for residents. The glazing will be illuminated at night, creating a recognisable beacon that can be viewed across Sheffield.
The scheme complements but is different from phase one which landed architects Hawkins Brown and Studio Egret West a place on the 2013 Stirling Prize shortlist, said Mark Latham, regeneration director of developer Urban Splash.
"Park Hill already has an engaged and lively community of 600 people who live and work in phase 1 – we know they will be delighted to see the rest of the building coming alive," he said, adding that announcements on other aspects of the regeneration would follow.
Urban Splash appointed Mikhail Riches in 2016 after a competition which saw four design teams given a flat to occupy for two weeks while they worked up their proposals.
Annalie Riches, director of Mikhail Riches, BD's Housing Architect of the Year in 2009, said: "Park Hill is a fascinating puzzle of a building. The rational order of the façade certainly isn't reflected in the plan and without the original architect's drawings we've had to undertake a flat-by-flat analysis of the blocks in order to create our new arrangement for the building.
"In this process we discovered a legacy of personalisation by house-proud former occupants and we've taken inspiration from this to create the detailing of our renovation.
"Phase 1 of Park Hill did a fantastic job. Thanks to its success, we've been able to take a different approach and retain more of the original fabric of the building for phase 2. Future visitors to Park Hill will be able to read the history of the estate by looking closely at the buildings and it feels exciting to be standing at the point where the past and present of Park Hill meets its future."
Landscaping is by Austin-Smith:Lord.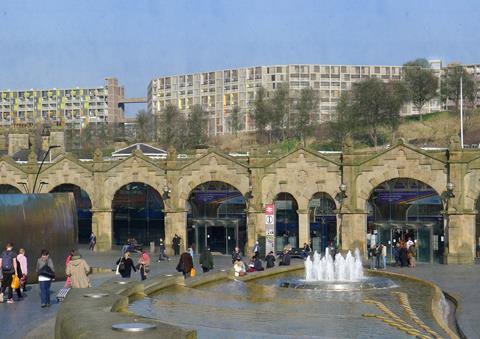 Postscript
The story has been updated to include information about tenure.