5,500 sign petition to stop project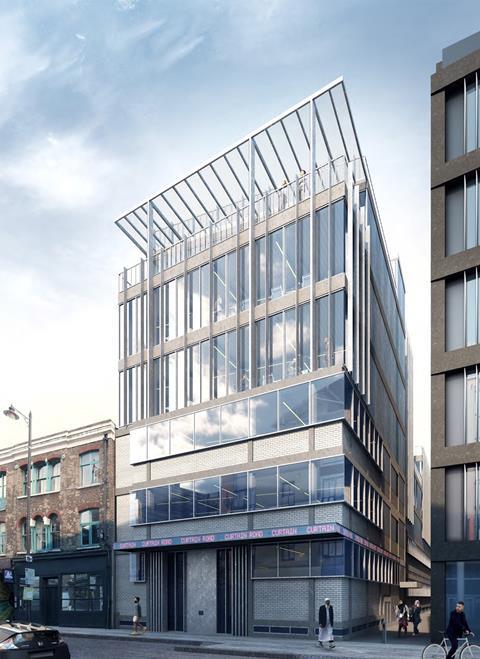 A project designed by David Adjaye for a site just a block away from his successful Rivington Place gallery in Shoreditch has triggered a campaign to try and derail it - on the grounds construction noise could kill off a neighbouring business.
Adjaye was appointed in 2015 to develop proposals to turn a derelict post-war warehouse on the busy Curtain Road into offices by adding three storeys.
The practice submitted a planning application to Hackney council earlier this year for the six-storey office block.
But the founder of a neighbouring business has launched a petition to get the project halted, attracting more than 5,400 signatures.
Richard Boote founded Strongroom Studios next door in a former zip factory in 1984 and says his early investment helped transform the area. The likes of Bjork and Depeche Mode have recorded there.
Boote says vibrations from the construction work would make recording impossible. This would threaten the future of his business and the others that have grown up around it, he claimed. The six-storey building would also throw a courtyard garden used by his related pub business into the shade, he said.
"Rising rents and redevelopments of this kind are pushing creative industries out of Shoreditch. Strongroom has fought hard to push back against this trend of gentrification and strive to keep our studio and amenity spaces inviting and affordable for creative companies," he said.
The applicant said extensive pre-application discussions had been held with the council and local stakeholders, and that the height was in keeping with the area.
Adjaye's strongly vertical design involves extensive glazing and a roof terrace. This contrasts with the horizontality of the existing brick building which is described as a flatted factory. This industrial typology emerged in the East End after the Second World War as a way of allowing large numbers of small firms to be housed together and some surviving examples, such as one by YRM, are considered candidates for listing.
The design and access statement said: "The redevelopment of 118 Curtain Road represents an opportunity to accommodate an increasing demand for work space in the form of a rooftop addition, while preserving the character and form of the existing building, a good example of the architectural legacy of the furniture trade."
It added: "The proposal seeks to deliver design of the highest quality that draws upon the historic context and, through sensitively designed interventions and a light refurbishment to the existing building elements, it cohesively strengthens the relationship to the South-Shoreditch Conservation Area."