Repurposing of 10-year-old structure would keep only its canopy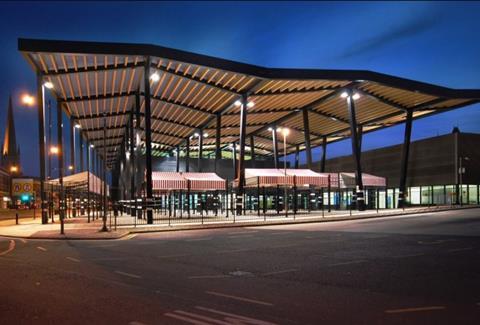 Wakefield council's cabinet has agreed to bankroll the £300,000 demolition of most of David Adjaye's 10-year-old market hall because it believes the move will save money in the long term and be recoverable when the site is sold.
The city's plans to shut the £3m structure and redevelop it as a leisure complex featuring a cinema and restaurants date back to 2014. Proposals by Leslie Jones Architects for the scheme – which would retain only the current market hall's canopy – were approved at the end of last year.
Earlier this month Wakefield's cabinet voted to pay for the demolition of the unwanted parts of the city centre building and reclaim the cost from developers Sovereign Centros and Orion Capital Partners, to whom the authority is planning to sell the site.
A report to the July 10 meeting said the market had "underperformed" since it opened "despite a number of improvement actions" led by the authority. The report said only four traders remained at the market, and that closing the facility and demolishing it would stop the council from having to run the hall "at a significant loss" for a further period.
The formal justification for the decision said: "By carrying out the demolition, the council would be able to address the significant ongoing deficit in running the market.
"Given the delays around the developer completing the purchase of the site, carrying out the demolition would place the council in a much stronger position moving forward; providing the opportunity to serve formal notice on the few remaining traders to end their occupation of the market hall."
The cabinet accepted that the demolition may not speed up the redevelopment of the site, but suggested the savings would still be beneficial to the council.
"Although there is a risk that the revised contract to sell the market site may not result in the completion of the transfer of the market site to the developer, the cost of demolition would be offset through savings made to the ongoing deficit," the cabinet said.
The market hall redevelopment plans to would deliver a 4,000sq m cinema and restaurant hub, which Sovereign Centros and Orion proposed to call Trinity Walk Leisure, as it is adjacent to the Trinity Walk Shopping Centre.
Wakefield Market Hall was David Adjaye's first public project, but the council said it was losing £193,000 a year by the time the decision to close it was taken.