East London structure will be a "digital first" for the UK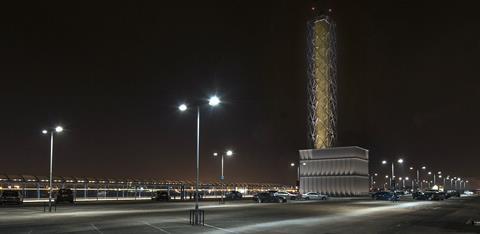 Pascall & Watson Architecture's new control tower, designed for London City Airport
Pascall & Watson has revealed its design for the UK's first single-source digital air-traffic control tower, which will allow flights to and from London City Airport to be monitored from roughly 100 miles away.
The 50m tower will use SAAB data technology to allow staff at the National Air Traffic Services headquarters in Swanwick, Hampshire, to control take-offs and landings at the Docklands airport.
Pascall & Watson said construction of the tower was due complete next year, with the facility expected to be fully operational in 2019.
The practice is responsible for a wider £350m expansion at the airport, which opened 30 years ago.
The programme won planning permission in July 2016 and includes a significant terminal extension that will increase the airport's capacity to 6.5m passengers per year by 2025, up from 4.5m. Work is set to commence this year.