Tributes pour in for Stirling Prize winner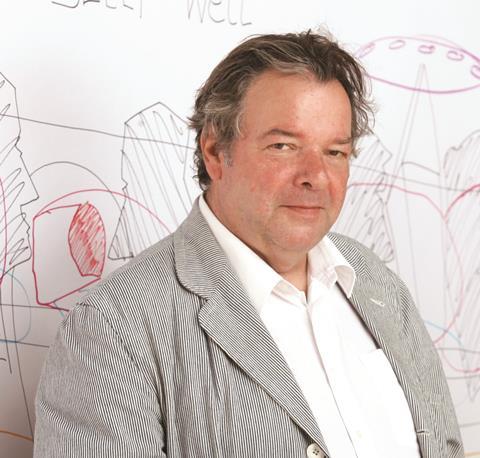 Will Alsop has died aged 70 after a short illness.
Voices from across the profession and beyond it have been paying tribute to the maverick architect whose work was characterised by bold use of unconventional shapes and colour.
Alsop won the Stirling Prize in 2000 for Peckham Library but was as well known for what went unrealised as for his built work.
He proposed turning Barnsley into an Italian hill village and joining towns across the country into regional "supercities". His design for Liverpool's Fourth Grace was an extraordinary glass cloud on stilts dubbed the "diamond knuckleduster" which was canned by the council in 2004.
But he worked around the world, notably China and Toronto, as well as in the UK where other buildings include North Greenwich Tube station, part of the celebrated Jubilee Line extension.
Marcos Rosello, director and co-founder of Alsop's current practice, aLL Design said: "It is with great sadness that I must inform you that on Saturday Will passed away after a short illness. On behalf of the studio we send our condolences to Sheila, Will's wife, and to his three children, Ollie, Piers and Nancy. Our thoughts are with them.
"Will has inspired generations and impacted many lives through his work. It is a comfort to know that due to the nature of Will's work and character, he will continue to inspire and bring great joy.
"He had an exceptional ability to recognise particular strengths in individuals which he would draw out and nurture. His design ethos, essentially to 'make life better', is evident in the architecture of his buildings and their surrounding communities. We will miss him greatly."
Before establishing aLL Design, Alsop, who left school at 16 and was apprenticed to an architect before studying at the AA, founded six practices over 40 years.
He was always full of surprises and when he claimed to be retiring to devote more time to his art he re-emerged at RMJM, which was at the time mired in controversy for the way it was treating its staff. After he left he castigated it for hiring disgraced banker Fred Goodwin.
Alsop was never afraid to ruffle feathers. During a public debate at the V&A in 2013 he said: "Society has decided in this age of austerity that what we need is more David Chipperfield. We don't need that. It's depressing.
"We need more fun, wit and humour. It's part of the human condition and if you don't have it you are left with David Chipperfield and a number of others. He is a very good architect and there's plenty of room for him but not everywhere, and not poor imitations."
Alsop went on to lambast Allies & Morrison for championing "calmness, boredom, conformity, uniformity" – qualities he described as the enemy – and labelled Norman Foster "grey".
Tributes to Alsop
Charles Holland, principal of Charles Holland Architects: "Really sad to hear of Will Alsop's death. He was incredibly generous and supportive during FAT and more recently. A big talent as well as a wild and witty man in person."
Amanda Baillieu, former BD editor and Stirling judge the year Alsop won: "Will Alsop dies and so does one of architecture's biggest characters and talents, never properly appreciated in UK."
Adam Nathaniel Furman, architectural designer and historian: "So incredibly sad to hear of Will Alsop's passing, one of our great creative spirits. It has recently been fashionable to ridicule his work, I hope there can be pause from the easy snarking now to reflect on a career that very much enriched our architectural culture. Alsop's delectably monstrous Fourth Grace design for Liverpool would have been totally explosive, I still wish they hadn't chickened out of it…"
Sam Jacob, founder of Sam Jacob Studio: "Thank you Will Alsop for believing in FAT when no-one else did. Really one of the most (and maybe only) generous architects…"
Elena Tsolakis, director of Tsolakis Architects and RIBA Council member: "RIP Will Alsop award winning rebel architect, bold playful painter, colourful troublemaker at large will be greatly missed."
Tom Dyckhoff: "RIP Will Alsop. A lovely fellow. A bloody great laugh. A lover of (metaphorically) prodding hornets nests. And architect of the still excellent, unrepeatable Sharp Center, Toronto."
Alexander Larman, Alsop's son-in-law, in a moving blog: "Everything that he did, or said, was seldom without a humorous tinge; he was a man who was constantly amused by the vagaries and absurdities of everyday life, sometimes not without anger, but always with a wry compassion that made him the most human, as well as humane, of artists."