Two new stands will increase capacity to 31,000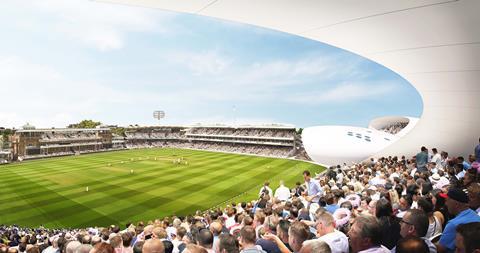 Wilkinson Eyre has unveiled its £50m designs for two new stands at Lord's cricket ground.
A planning application for the replacement Compton and Edrich stands at the MCC stadium will be submitted to Westminster council in the autumn.
If consent is given, MCC members will still need to approve the plans. Demolition would start after next year's Test Match against Australia and the club hopes work will be completed in time for the 2020 season.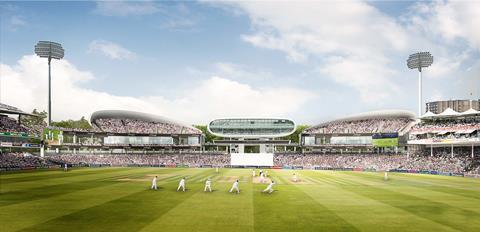 The proposals form the next phase of Lord's masterplan which was designed by Populous after previous attempts by AHMM and Herzog & de Meuron came to nothing.
Both new stands will contain three tiers and will together accommodate 11,500 fans. This will increase capacity by 2,500 seats.
The scheme includes a walkway linking the stands with views over the Nursery Ground, the warm-up pitch behind the main field of play.
Better catering and WC facilities, lift access and wheelchair-accessible spaces will be included and the top tier of the new stands will be partially covered.
Jim Eyre, founding director of Wilkinson Eyre, which has twice won the Stirling Prize, said "We are delighted to be working on this critically important project at Lord's which will transform the setting of the Nursery End and provide some great views of the cricket."
Lord's media centre, designed by Future Systems, won the Stirling Prize in 1999.