Tony Pidgley also demands training for planning committees
If the government is serious about improving design quality in housing it must invest in local planning authorities, the boss of Berkeley Homes has said.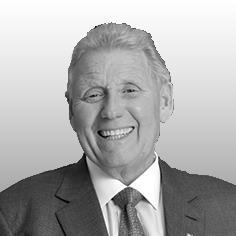 "If you want to improve the quality of design you've got to reduce the bureaucracy and change the culture of planning. More planning officers, please," Tony Pidgley, chairman of Berkeley, told the Housing Ministry (MHCLG)'s Design Quality Conference.
The conference, with speeches from ministers Sajid Javid and Dominic Raab, brought together architects, planners, housebuilders and housing associations to discuss how good design can help get more housing built.
Pidgley, in a session chaired by RIBA president Ben Derbyshire, said investing in planning was the key.
"I want to see the government put in place the framework to allow us to build 300,000 homes, for local authorities to speed up planning consent and for the government to give them more staffing," he said.
"In some areas planning is a battle from the start. We waste years," he said.
He claimed officers had privately told him they don't read all the consultants' reports that developers commission.
"So why are we doing it? We need to make the planning system work."
Money should also be spent training councillors who sit on planning committees to minimise the chance of schemes that have been recommended for approval being rejected at committee, he said.
"Planning committees need skill and training to make the best decisions for their communities," he said. "Planning officers are very professional and write considered reports, but then someone gets emotive in the room on the night and we get a refusal. We need to address this."
He said design quality had already improved, and cited four recent schemes Berkeley won on quality despite not being the top financial bidder, including the first phase of Peabody's Thamesmead redevelopment.
"I don't see a lot of bad architecture out there. I did 10 or 15 years ago but it's moved on," he said.
"We don't need a government conference to tell us how to get the basics right. That should be in our DNA. Real design isn't about the design of buildings. It's about people, place and community, about putting sustainability at the heart of our vision, about investing early in the right infrastructure, making places that work for everybody, young and old, better off or poor.
"Good design is about creating the kind of community where people feel connected, responsible and care for each other and their neighbourhood – somewhere they call home."