£6.12m project adds rammed-earth prayer halls to UK's "most significant" United Synagogue burial site
Waugh Thistleton Architects has completed a £6.12m complex of prayer halls and service buildings at a cemetery in Hertfordshire.
The project, which is Bushey Cemetery's main ceremonial space is created from rammed earth and is clad internally with English oak.
Funeral processions enter through large CorTen steel doors into the timber reception building, from where a long colonnade acts as a clearly defined route leading towards the prayer hall buildings.
The floors of the two halls slope gently towards the front of the rooms, which are designed to be flooded with natural light from a clerestory window and designated as space for rabbis and coffins.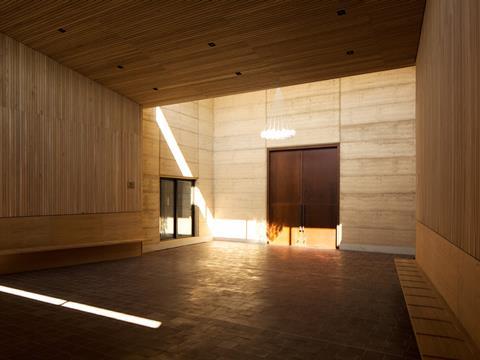 Waugh Thistleton director Andrew Thistleton said the practice had worked closely with the project client to get a detailed insight into Orthodox Jewish burial practices to create an "understated yet impactful" space.
"Through their materiality the prayer halls offer a natural space that enhances the spiritual nature of the cemetery, despite the absence of any implied typology," he said.
"The use of rammed earth as the main building material creates a strong connection to the cyclical nature of life and death, while simultaneously addressing the sensitivity of the greenbelt site."
Waugh Thistleton said Bushey Cemetery was the UK's most significant Jewish cemetery, and that its expansion marked the first new consecration of a United Synagogue burial site for 50 years.
The practice said its designs were created in collaboration with engineers Elliott Wood. Landscaping is by J&L Gibbons.