Accounts show practice was paid over £500,000 of a bad debt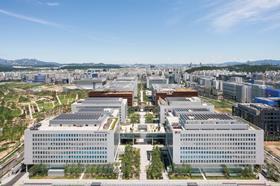 HOK's US parent pumped £700,000 into its UK-based business earlier this year, the firm's report and accounts show.
The payment was made to HOK International in March and comes as the firm narrowed pre-tax losses in the year to 29 December 2017 to £455,000 from £2.3m the year before.
A spokesperson said the "additional working capital [will] be spent on growth in people, marketing, IT and competition bidding capability".
The firm, which is based in Fitzrovia, said it has been "adversely impacted" by a scheme in the Middle East.
In the firm's latest report and accounts filed at Companies House, HOK said it had received a bad debt credit of just over £513,000 compared to a charge of £659,000 it was forced to make the year before.
Earlier this week, the head of HOK's London business Dan Hajjar said his firm was being hampered by Brexit and added the government was handling negotiations to leave the EU "terribly".
"It goes from internal crisis to external crisis," he said. "Everyone is walking on a floor of marbles."
The firm carries out £10.6m of its £19.4m turnover in the UK and Europe, with the remainder coming from the Middle East, Africa and Asia where its jobs have included a science park (pictured) for electronics giant LG in South Korea's capital Seoul.