Architect's UK chief 'hopeful' Middle East job will be finished by Christmas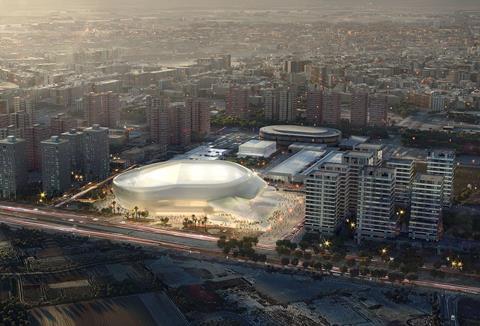 HOK's UK-based business continues to be blighted by a scheme in the Middle East which helped widen pre-tax losses at the architect last year.
The architect, based in London's Fitzrovia, said it has been "adversely impacted" by a scheme in the Middle East.
HOK International declined to name the job but the head of its London office, managing principal Dan Hajjar, said it will have finished its work on the project by the end the year.
"It's taken way longer than it should have, by a couple of years," he said. "Hopefully the end of the year it will be in the rear-view mirror for us."
Pre-tax losses in the year to December 28, 2018 increased from £455,000 to just over £2m.
The firm said the ongoing impasse over Brexit continued to hit business as well. "We've had to look further afield for opportunities," Hajjar said. "The larger ones are not as plentiful as they have been in the past."
He said HOK had increased income from Europe, the Middle East and China by 10% during the period and added: "People want a decision [about Brexit] one way or the other. Let's get on with life, frankly. Everyone will at least know the rules of the game going forward. At the moment, no one knows."
Around one third of its 110 staff in London are from the EU and Hajjar said: "Our legal counsel don't have a clear idea [about their status] going forward."
HOK, which is working on the new 12,500-seat Gateshead Quayside Arena, said its profit had also been hit by the number of jobs it was bidding in competitive tender where costs can range from £10,000 to £300,000. Hajjar said: "We're doing more work in order to win more work. More work is being procured through competitions."
Hajjar said the company was on track to beat 2018's turnover of £20.5m – a rise of 5.5% on 2017's number – and was "hopeful" the firm would turn in a small profit in 2019.
Just over a third of its business is from the UK with 20% coming from Europe where it is building two basketball arenas in Spain for Barcelona and Valencia.