All 800 staff will have moved into the Kieran Timberlake-designed embassy in three weeks' time
All 800 staff at the new US embassy in London will have moved in later this month – with embassy officials confident US president Donald Trump will be on hand to open the new building in Nine Elms.
Designed by Philadelphia-based Kieran Timberlake, the $1bn scheme has been funded by the sale of buildings the embassy owns at its former address at Grosvenor Square in Mayfair.
Consular services at the new building will be open to the public from January 16 with staff completing the switch to their new premises six days later.
BD understands Trump will "most probably" be there for the opening date, or at a date around that time. Current ambassador Woody Johnson, who took over the post last August and is the great grandson of the founder of pharmaceuticals firm Johnson & Johnson as well as the owner of the New York Jets American football team, is believed to be keen that Trump cuts the opening ribbon.
It is the embassy's first relocation out of Westminster since it first opened a base in the capital 150 years ago with its current grade II-listed home, built in 1960 to designs by Finnish architect Eero Saarinen, being turned into a luxury hotel by architect David Chipperfield.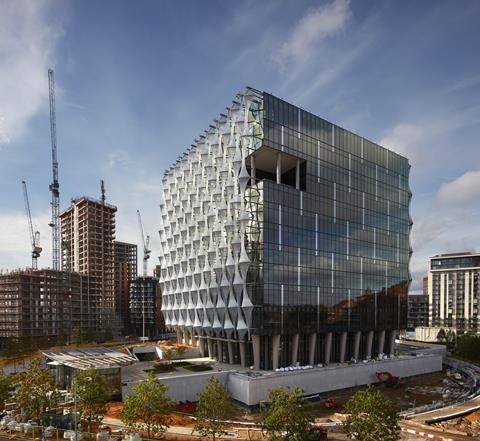 The new 12-storey block is almost a year late, with the powerful House Oversight and Government Reform Committee – a House of Representatives spending watchdog – criticising the way the scheme was being built at a hearing back in December 2015.
Because of terrorist threats, all US embassies must be set back at least 30m from a road, have anti-vehicle ram barriers and be constructed from blast-resistant materials.
But the committee said the US State department had "demonstrated poor risk management when it began construction of the London embassy compound prior to completion of the blast testing".
The highly sensitive nature of the US's diplomatic base in the UK means many of the building's details are shrouded in secrecy.
But internal gardens at the site are themed on various topographical conditions found in the US such as the Florida Keys.
And the building has a number of flats for the US marines who guard it along with a gym and basketball court.
Timberlake won an architectural competition for the scheme nearly eight years ago, beating competition from Morphosis, Pei Cobb Freed & Partners and Richard Meier & Partners.
An initial shortlist of nine was drawn up by the US State Department with all the firms picked US practices. This was explained as the result of "security" concerns and because only US architects had "experience in the design of American embassies and other buildings".