AFL working on bid and designing 92,000-capacity stadium in Istanbul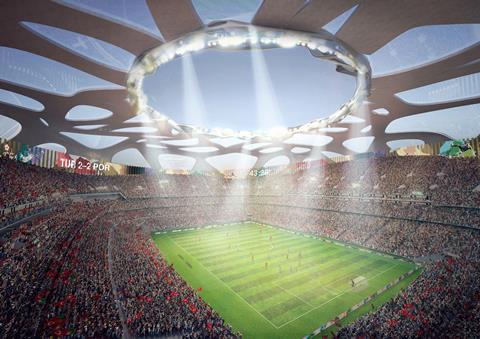 AFL Architects is behind plans to transform Istanbul's old Olympic stadium as part of Turkey's bid to host the 2024 Euros.
The UK architect, which is working with Foster & Partners on the main stadium for the Qatar 2022 World Cup, has come up with a new-look 92,000-capacity Ataturk stadium featuring a new lower tier with concourses and player facilities built inside the existing structure.
The stadium, which has an existing capacity of 76,000, was completed in 2002 and was built as part of Turkey's failed bid for the 2008 Olympic Games. It hosted the 2005 Champions League final between Liverpool and AC Milan.
It will be developed in two phases with the second rebuilding the upper tiers and the rest of the stadium's concrete frame.
Additional corporate hospitality facilities will be built, including a Tunnel Club, allowing spectators to eat and watch players as they arrive onto the pitch.
There will also be 200 10-person skyboxes and hospitality lounges and seats for 14,000 spectators.
A 360-degree video wall will feature both inside and outside the stadium.
The sports specialist, which has also worked on new stands at Chelsea's Stamford Bridge ground and Edgbaston cricket ground in Birmingham, has helped mastermind the country's bid to host the event.
Turkey's bid, which involves staging matches at 10 stadia in nine host cities, went in last week with football authority UEFA due to reveal the host nation for the 2024 event this September. The other bidder to stage the event is Germany.