Practice creates offshore pavilion for Thames Valley business park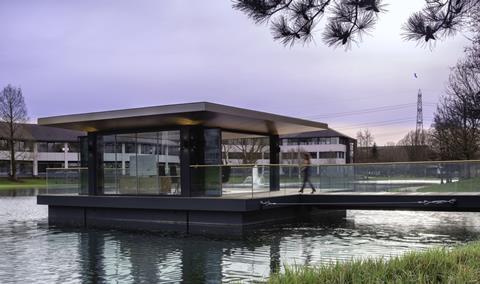 TP Bennett has created a floating meeting room for the owners of a Berkshire business park in what it said was a first-of-a-kind for the UK.
The pavilion, designed for APAM and Patron Capital – which run the Arlington Business Park near Reading, offers 360-degree views of its surroundings and is linked to dry land by a bridge.
TP Bennett director Neil Sterling said the structure, which could be used for corporate meetings or social events, was inspired by a drive to challenge the perception of business parks as places that lacked the "intensity and connectivity" of town centre locations.
"We have transformed the park in an inventive and creative way, using carefully considered design to deliver a vibrant out-of-town destination for large occupiers, SMEs and tech startups," he said.
"The end result is a business park that meets the needs of contemporary occupiers, with clever design offering high-quality architecture, stand-out amenities as well as working environments that encourage interaction and collaboration."
The practice said it had used a combination of imaginative architecture, specialist engineering and boat-building technologies to create the pavilion.
Its design features four columns that support an over-sailing anodised aluminium roof, while floor-to-ceiling glazing allows all-round views and reflects water and light.