Borough faces an autumn defending decisions to refuse towers by Make, 3DReid and Unit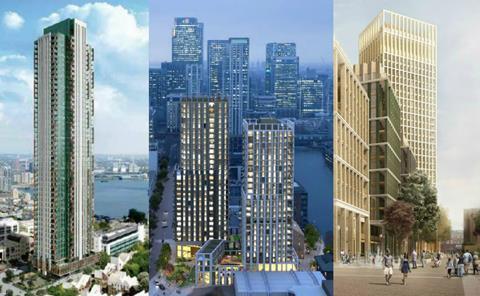 The London Borough of Tower Hamlets is facing a barrage of planning appeal inquiries this autumn as a queue of major developments refused permission or not determined in time are put under the spotlight.
Over the course of seven weeks, planning officers will be defending councillor decisions to refuse consent to Make Architects' much-tweaked 225 Marsh Wall skyscraper on the Isle of Dogs and 3DReid's proposals for a twin-towers scheme at nearby Millharbour.
They will also be putting the council's case against two schemes for the redevelopment of supermarket chain Sainsbury's Whitechapel site that were drawn up by Unit Architects, one of which features a 28-storey tower.
Sainsbury's is appealing the rejection of the tower version of its 559-home scheme and also the non-determination of a revised version of the proposals that reduced the tower's height to nine storeys, but would still have delivered more than 450 homes.
Data from the Planning Inspectorate on appeal inquires in recent years shows that the slew of hearings – with the three cases alone expected to take up 21 days – places Tower Hamlets very near the top of council league tables for the volume and duration of such probes.
Only three other local authorities have had more appeal sitting days during any quarter over the past three financial years. In terms of London boroughs, only Bromley participated in more planning appeal inquiries than Tower Hamlets during the three years to April. The four planning appeal inquiries that Tower Hamlets underwent over that period took up more time – 33 days – than those of any other borough in the capital.
Tower Hamlets' run of appeal inquiries starts with the Make scheme for Marsh Wall on September 11. Ken Shuttleworth's practice originally proposed a 56-storey tower for the site before developer Cubitt Property Holdings withdrew the proposals in 2016 ahead of a strategic development committee where refusal appeared imminent.
A reworked version of the scheme, which dropped the height from 56 to 49 storeys and removed the stepped design for its upper levels, was refused last year on the grounds that it represented overdevelopment of the site.
Second up is the appeal inquiry into the Whitechapel proposals, which is currently scheduled to begin on October 9. Sainsbury's original vision to redevelop its 3.1ha site featured a 33-storey tower, but it was downsized to a 28-storeys as part of an eight-block scheme that would have delivered 559 homes and a new supermarket.
The scheme was rejected in May 2017 for reasons that included its impact on the nearby Trinity Green Almshouses, which are grade I-listed.
The revised scheme for the site reduced the tower height to nine storeys as part of a lower-rise scheme that delivered 471 homes and a new supermarket. Sainsbury's launched an appeal against Tower Hamlets' failure to determine the second proposal within official time limits. However the council subsequently voted to refuse the scheme anyway.
As well as reiterating concerns over the "substantial harm" the scheme would cause to the almshouses, councillors cited its general impact on the Stepney Green Conservation Area; "less than substantial harm" to the nearby grade II-listed Albion Brewery entrance building; and loss of light to nearby homes in low-rise council blocks.
In January this year, Unit directors Ross Hutchinson and Steve Ritchie parted company and set up separate practices and the project went with Hutchinson.
Hot on the heels of the Whitechapel appeal inquiry, the hearing looking into the 3DReid scheme at Millharbour is set to begin on October 23.
Created for developer Meadow Residential, the 30- and 26-storey towers would have delivered 319 homes and around 1,700sq m of non-residential floorspace for retail and nursery use on a 0.65ha site currently occupied by low-rise office and retail buildings.
Members of the borough's strategic development committee voted to reject the scheme in November last year, citing a conflict with planning policies designed to deliver a "stepping effect" between the high-rise buildings of Canary Wharf and the southern part of the Isle of Dogs among their reasons. Planning officers had recommended the scheme for approval.
Following the Millharbour appeal, a five-day hearing on Tower Hamlets' refusal of Gryzwinski & Pons Architects-designed proposals for a 13-storey apartment hotel in Buckle Street, near Aldgate, is due to be heard, starting in the second week of November.
BD asked Tower Hamlets how it was preparing for the deluge of appeals and whether it expected there to be any impact on its ability to process planning applications. It had not responded at the time of publication.