Joint RIBA and Microsoft research shows some practices drag heels in digital transformation race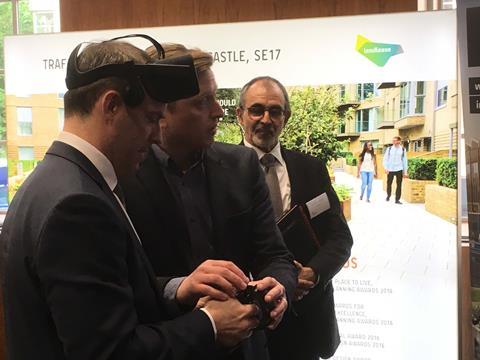 More than two-thirds of UK architects are using Building Information Modelling technology for new-build projects, acccording to joint RIBA/Microsoft research.
But the survey of more than 300 architecture and built-environment professionals found that there are still significant pockets of resistance to digital transformation in general and BIM in particular.
According to responses, 70% of professionals are now using BIM, a figure that has climbed steadily from the low teens in 2011, save for a wobble around the 50% level in 2014-15.
A more detailed look at the data showed that in addition to the 70% figure, a further 17% of respondents said they expected to be using BIM over the next five years. The remainder were uncertain about whether or when they would adopt the technology.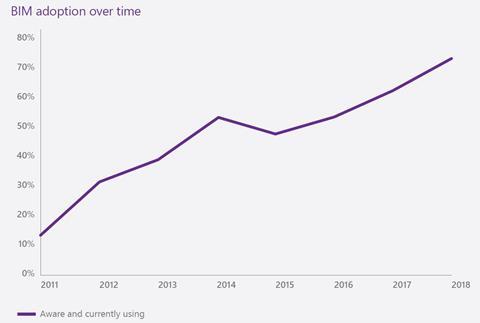 The report, titled Digital Transformation in Architecture, said that while BIM was becoming the norm for new-build projects, there was a different set of challenges and opportunities for work on existing buildings – which Office for National Statistics figures suggest accounted for 34% of UK construction output in 2017.
It said the cost associated with digital surveys required to make 3D models of existing structures was perceived as a barrier to BIM on refurbishment projects, but noted that the use of drones and other digital surveying techniques was making the task easier.
Elsewhere, the survey found that 35% of respondents were currently using immersive technologies, such as mixed reality, augmented reality and virtual reality, with a further 29% expecting to be using them in five years' time.
However, while 87% of respondents said digital technology was transforming the way they worked, professionals gave a more mixed picture of the pace of change at their practices.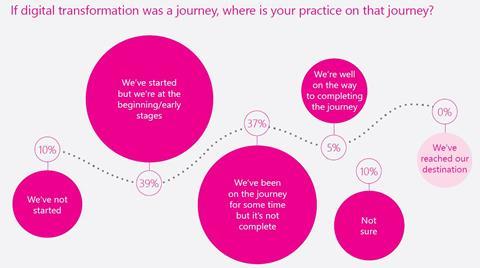 Thirty-nine percent said their practice was only at the beginning of its "transformation journey"; 37% said their transformation had been underway for some time but was "not complete". Only 5% said their practice was well on the way to completing" its transformation journey, while 10% said they did not know where their practice was on its journey. Another 10% said their practice had yet to start its digital transformation; none said their journey was complete.
RIBA director of practice Lucy Carmichael said architects were "uniquely placed" to meet the challenges faced by digital transformation.
"The adoption of transformative technology is not just about bringing productivity and efficiency to architectural services," she said.
"It's also about the continuous improvement in project outcomes – creating buildings fit for the challenges we face now and in future, and which have a positive impact on users, communities and the environment.
"The use of digital technologies promises to have a positive impact on the buildings we create and the next wave of digital transformation will open new, exciting opportunities for architectural practices."
According to the survey, cost is the primary challenge that architects face in adopting new technologies, 69% of architects said. As well as the cost of buying new software, time and investment is needed to get staff up to speed.
Almost half of respondents highlighted a lack of company-wide digital skills as a challenge. Just over half said they found it difficult to know which digital trends or opportunities to respond to.
Click on the file below to read Digital Transformation in Architecture in full.