Wrangle pitches residents of RSHP's Neo Bankside against Herzog & de Meuron extension
The High Court has begun hearing a demand for action over loss of privacy caused to residents of RSHP's Neo Bankside development by the 10th-floor viewing gallery of Herzog & de Meuron's Tate Modern extension.
Five owners of flats in the development, where prices ranged from £2m to £19m, last year launched legal action against the Tate Board of Trustees calling for that part of the open-air viewing gallery to be either cordoned off from the public or screened to provide greater privacy.
Evidence given to Friday's hearing included one of the claimants saying they had counted 84 gallery visitors photographing their south London flats in the space of around 90 minutes.
Another claimant said in written evidence that it broke her heart to think that people had been able to film and photograph her young daughter in the kitchen or living room of their home "on the rare occasion" that she had forgotten to draw the blinds.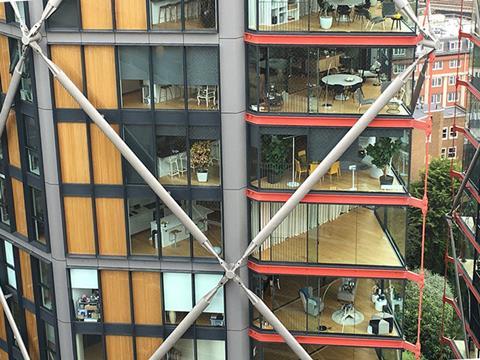 The resident said she felt as though her life revolved around the opening hours of the viewing gallery – currently 10am-5.30pm on Sundays to Thursdays, and 10am-10pm on Fridays and Saturdays.
The five claimants argue that the degree of visual scrutiny they face as a result of the viewing platform at the Tate Modern extension – originally called Switch House but now known as the Blavatnik Building – is a degree of visual scrutiny that breaches their human rights.
The Tate Board of Trustees argues that the "obvious remedy" for being overlooked would be for residents to draw the blinds in their flats, or put up curtains.
Neo Bankside brings together five buildings of six to 24 storeys and delivers a total of 217 flats, plus office and retail space. The development was completed in 2012 and shortlisted for the Stirling Prize in 2015.
Herzog & de Meuron's repurposing of Giles Gilbert Scott's Bankside Power Station opened as Tate Modern in May 2000. The extension project began in 2004; it opened to the public in 2016.