How can the industry embed technology, make it stick and leverage the benefits over time? Deltek and Building hosted a roundtable to discuss the way forward. Emily Twinch reports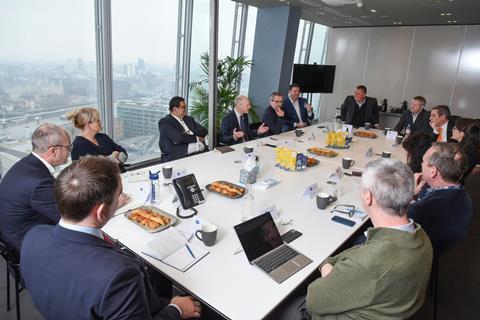 Earlier this month a panel brought together by software specialist Deltek and Building magazine gathered to discuss how the construction sector could move from digital transformation to embedding systems, methodologies and technologies into industry best practice.
The panellists, chaired by Building's group technical editor and insight and strategy director Thomas Lane, looked at the issue of blockers to technological integration, issues with competitiveness in the industry, and possible solutions that start‑ups could bring. A strong theme running through the whole discussion was that firms need to work together in partnership and change their cultures to embed digitalisation.
Slow progress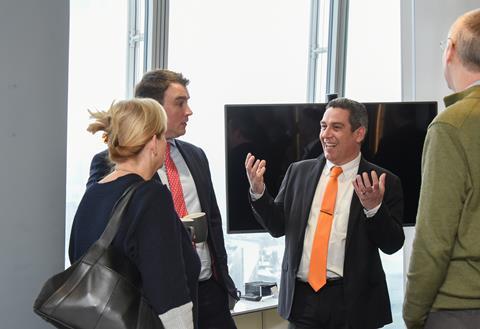 George Mokhtar, UK head of technology at Turner & Townsend, kicked off the discussions by saying that there was an "accelerating maturity around digital". He said that in the past couple of years there had been a growth "in adopting new technologies changing the way we work, rethinking how our industry behaves". However, he added, digital progress across the industry varied greatly. "[The construction industry] isn't in any one place at the moment," he suggested. "There's basically pockets of light and pits of despair."
Mark Leeson, operations director at McBains, pointed out: "The construction industry is the least digitised industry in the world, so there's a long way to go." He said issues in the industry had been discussed for 30 or 40 years but "not a lot changes". Leeson said one of the problems was that the industry was so fragmented. "We can't continue to do things the way we've been doing in the past," he said. "It's not sustainable".
A recurring topic in the discussions was that the culture of the construction industry was acting as a blocker to digital integration.
"We're not coming together as best we could and not being as open as we could. The reason … is liability."

George Mokhtar, Turner & Townsend
Corporate strategies sometimes struggle to get the balance right, between 50% digital and 50% culture (people's behaviour), Mokhtar suggested. He quoted someone at a recent conference as saying: "Culture eats strategy for breakfast."
Mokhtar also pointed out that one of the reasons for slow digital progression was that there were lots of different generations working across a fast-moving sector. Mark Buckle, technical director at Tilbury Douglas, added: "We've got five generations in the industry and they all adapt to technology in a different way."
Blockers to digital integration
As well as culture, other blockers were mentioned during the roundtable. Darren Russell, chief digital officer at Mott MacDonald, suggested to the panel that, as an industry, "we do everything we can to block
the use of technology to deliver value". Chair Thomas Lane asked what the biggest blockers were. Russell said one of the issues was intellectual property (IP) ownership in contracts: "IP is usually invested in the client. But then it just gets stuck there."
He also said competitiveness between firms was an issue. Andrew Lee, managing director of JNP Group, told his fellow panellists: "We're all fighting each other," saying what was needed was "a change in the culture of respect and how we perform as a profession".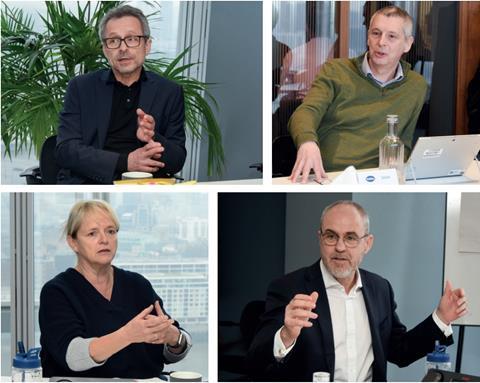 Mokhtar agreed contracts were a barrier to embedding technology. "We're not coming together as best we could and not being as open as we could. The reason is the financial institutions insist on certain levels of liability."
Professional indemnity insurance was identified as a big digital blocker by several panellists. Lee said: "I've seen people not get PI and closing down. We've got a big problem that must be solved." He added: "The financial industry is so powerful. How do we stop them dictating [to us on] something we know better?"
John Chubb, chief executive for consulting (UK and Ireland), RPS, said that firms "still have this sort of financial barrier which holds us back". He said it was "bonkers" that the biggest investors in insurance were pension funds. "We've got to change the way we deal with money that underpins the project," Mokhtar said. "It's the money that controls the behaviour."
"There is absolutely best practice out there. We need to resolve how we can make it the norm."

Louisa Finlay, Kier
Digital integration could also be held back by recruitment issues in the industry, panellists agreed. Recruitment was "falling and falling", Lee said, adding that if the sector was not careful "we'll be dinosaurs".
Panellists also said digital progress was being hindered by clients with different levels of understanding of data collection. Mokhtar said: "You've got those who know nothing, you've got those who sort of know enough to be dangerous, and then you've got those who are real experts – and it's very difficult to work across those three mediums."
Leeson pointed out: "Many times we have all been asked to provide data when we know full well the person who asked for it is never going to use or understand or even be able to kind of remotely cope with it." He explained that he was recently confused when a client asked for BIM Level 3.
What's working
Mokhtar said that you could see "great leaps taken forward" in the infrastructure market. Also in the "real estate sector, particularly information science and technology, manufacturing or engineering". The real estate sector, he said, "tends to be a hive of more agile development. They make very clever leaps forward on a day-to-day basis." Buckle agreed that success was client-driven so sectors such as infrastructure that were "more agile and top-down", where the client was better informed, were more advanced in embedding digitalisation.
On the issue of liability, Mokhtar mentioned that when he worked in Denmark he professional indemnity vehicle was much simpler. This simpler form of indemnity allows risks at the design stage and everyone working on the project to come together on a "slower, cheaper contract" that is "geared to outcomes" rather than the money that underpins the project. Chubb also highlighted that as Denmark's "contract risk is completely different, everybody drives to the same outcome. Everybody gets rewarded with the outcome."
Louisa Finlay, clients and markets director at Kier, said "brilliant policy" and "some really forward-thinking public sector clients" meant Kier was "delivering some fantastic projects that are fully digitalised".
Emily Scoones, head of digital innovation building services at Ramboll, warned that it was vital not to embed "bad practices into our data" along with increasing digitalisation. It was important not to introduce biases, she said. Mokhtar agreed it was important to "tackle the ethics behind data". But he added: "Insight can be used for good, it can help people use assets better and more safely, and it can drive behaviours that are more sustainable."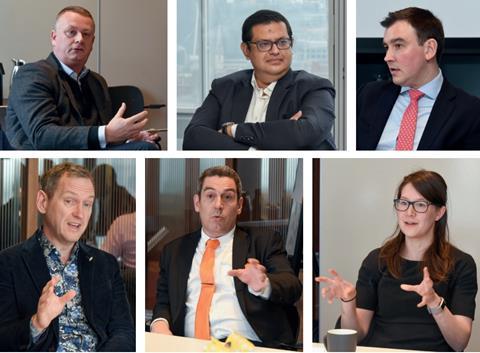 Solutions
Russell said organisations needed to change to create an "environment for everyone". He added: "My view is that within our sector, we've got all of the technology we need to just fundamentally change the way we can deliver, and if we can do that everyone will benefit." He said the challenge was "to enable the whole industry to accept that digitalness". Russell suggested the industry might come together more "if we could start sharing data, trusted data, and having the sort of contractual arrangements where we can actually share it".
Scoones believed partnerships were essential to embed digitalisation in the sector "both internally within the sector but also externally". She said there were a lot of other industries "that have gone through all this data stuff".
It was necessary to learn from other industries, Scoones said, rather than to "try to reinvent the wheel". She also suggested "amazing, great little" start‑ups could work within or with big corporates. Smaller "agile" companies could be given space and the environment to find "completely different solutions that wouldn't be possible in the bigger companies", she advocated.
Russell said Mott MacDonald was investing in a Spanish start‑up with "incredibly clever people" that was "opening doors for them".
However, Neil Davidson, regional vice president for EMEA and APAC at Deltek, spoke about the importance of corporate governance and pointed out that data-sharing as well as bringing start-ups into the "value proposition" brought risks. There was a "different commercial risk because you had GDPR considerations and fines that can be associated with that".
"The data needs to be more standardised in order for projects to become more streamlined and to collaborate better with the wider team."

Richard Owen, Rex Procter & Partners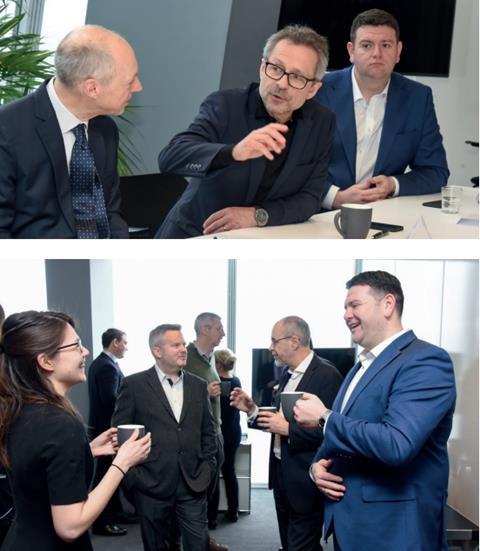 Leeson said what smaller companies "bring to the party is a kind of system change". He explained small start-ups might be able to show the way to improve communication, to help the construction industry become less "fragmented". Leeson also suggested that upskilling personnel quickly would help digital integration. "Where skills run out and we retrain, then you have to make another step. So there's that constant kind of jolting of progression thing." He added that the same data could be used for multiple purposes: "You've got to get the data anyway to operate an asset, so you may as well use the same data to properly assess risk at the same time." On the issue of insurers, he suggested: "Get close to them. Get close to your enemies – if they are the blocker."
Finlay said that if buildings were constructed in a different way and digital technologies were used properly, the industry could "recruit from a whole different skill set". She added: It's really exciting: I think, in the next 10 years, around this table we've got the chance to make that change." She suggested: "There is absolutely best practice out there. We need to resolve how we can make it the norm." Finlay also suggested it was important to get people to understand information management. Mokhtar agreed. "The information manager is the lifeblood of a project," he said.
How useful is standardisation?
Richard Owen, director of Rex Proctor & Partners, said: "The data needs to be more standardised in order for projects to become more streamlined and to collaborate better with the wider project team."
Finlay said she believed "standardisation drives quality" but the industry had to be careful because you don't want to end up with "just square buildings everywhere. We need difference." Rob Sargent, board director at Stride Treglown, said that "standardisation is about just saying: 'You know what? We're not going to have a debate about whether we use Lafarge or British Gypsum.' It just makes life so much easier."
Mokhtar said: "It's the physical standardisation of components that's important. I think digital can really help streamline that."
He added that "standardisation of insight" was important. If you can standardise "reporting, intelligence, the data in the systems" then you can "cook down things like decision time".
Leeson said if you get a really good system then it "doesn't stifle innovation" and should be useful for retrofit, "which will probably be the vast majority of what we are doing in the end".
Scoones added: "I think what standardisation allows us to do is to flip how we use our resources on a project. Traditionally you start really small and then, by stage four or five, that's where all your fee comes in. Standardisation allows you to take that fee and bring it up to the front end."
Sargent finished off the debate by talking about the "impossible matrix" that the industry was "trying to stitch together". He said of the future: "I imagine a world of extreme complexity, of hundreds of apps all trying to talk to each other and nothing really goes." He stated: "Some simplicity would be lovely."
Round the table
Chair: Thomas Lane, group technical editor and insight and strategy director, Assemble Media Group
Mark Buckle, technical director, Tilbury Douglas
John Chubb, chief executive for consulting (UK and Ireland), RPS
Neil Davidson, regional vice president (EMEA/APAC), Deltek
Louisa Finlay, clients and markets director, Kier Construction
Andrew Lee, managing director, JNP Group
Mark Leeson, operations director, McBains
George Mokhtar, head of technology (UK), Turner & Townsend
Richard Owen, director, Rex Procter & Partners
Darren Russell, chief digital officer, Mott MacDonald
Rob Sargent, board director, Stride Treglown
Emily Scoones, head of digital innovation for building services, Ramboll
Vishal Shah, executive director and head of digital product development, Gleeds