Practice showcases St Peter's Square and Spinningfields schemes
Manchester-based SimpsonHaugh has announced the completion of two major projects on its home turf – Two St Peter's Square and No 1 Spinningfields.
The St Peter's Square office block was designed for Mosley Street Ventures and delivers 18,500sq m of office space across its 12 storeys.
It is the final component in the seven-year rejuvenation of St Peter's Square, which SimpsonHaugh masterplanned in 2010 as part of the city's Civic Quarter Regeneration.
The new building features patterned tracery screens inspired by motifs embedded within the adjacent town hall buildings, and which are formed of 6x4-metre prefabricated reconstituted Portland Stone panels, each weighing approximately eight tonnes.
SimpsonHaugh associate partner Simon Critchley said the Breeam "excellent"-rated building had its floorplates punctuated by just three internal columns, and that the rear positioning of the structure's core had allowed the firm to achieve "unusually large clear spans" of floorspace.
"With every aspect of the design, we sought to lock Two St Peter's Square in place, embedding it within its civic surroundings and creating a dialogue with the town hall extension," he said.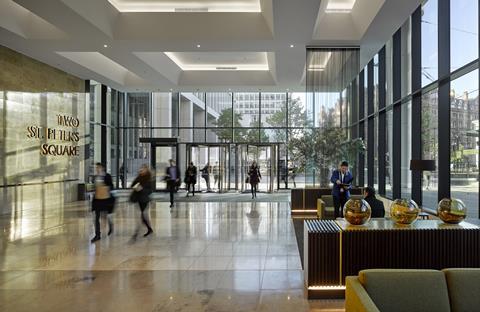 Designed for developer Allied London, the 20-storey No 1 Spinningfields delivers 25,000sq m of office space, ground-floor retail and a top-floor restaurant – currently being fitted out – which is set to be Manchester's highest.
The development also delivers ground-floor and mezzanine-level retail.
SimpsonHaugh partner Mark Savage said the scheme provided a "high-quality commercial offer" and created "a strong architectural landmark" for the location.
"We are really pleased with the success of No 1 Spinningfields within the context of the wider masterplan," he said.
"To see it successfully let and operational marks another milestone moment in Manchester's story."