Practice is only architect to design four universities in Britain
Several of the main buildings at RMJM's York University have been listed, including its main Central Hall.
York was part of a wave of seven new universities that improved access to higher education and marked the high point of publicly funded architecture in post-war Britain.
Dating from the mid-1960s, it was one of a record-breaking four universities designed by RMJM.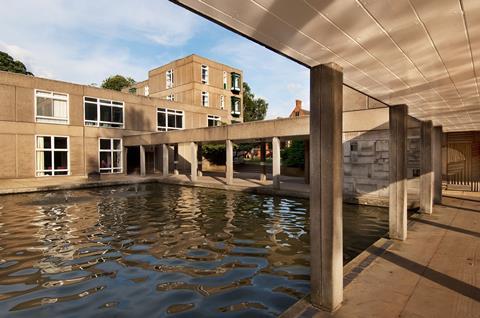 York's development plan, heralded as the beginning of contemporary university planning in Britain, was designed under the leadership of partners Stirrat Johnson-Marshall and Andrew Derbyshire, father of the current RIBA president.
The listings, confirmed by the Department of Culture on the advice of Historic England, cover several buildings, a landscape, walkway and sculptures.
The landmark Central Hall, listed at grade II, was described as an "architectural tour de force" with an "imaginative and bold design with striking architectural form".
It has dramatic views across the campus lake and was built in 1966-68 with reinforced concrete – in contrast to the CLASP construction of the rest of the campus – because of the large spans involved.
Other newly listed structures include Derwent College, the former Langwith College and the walkway linking Langwith, Central Hall and Vanbrugh College.
Also given grade II protection was the Campus West Designed Landscape, laid out 1963-1980 by RMJM.
This was described as: "A refined design that successfully integrates a series of status buildings within a carefully designed landscape, and was praised by the contemporary architectural press."