Contest comes as Lifschutz Davidson Sandilands unveils Thamesmead masterplan
The RIBA has launched a design competition to find an architect for a high-density residential development opposite Abbey Wood Crossrail station in south-east London.
The Felixstowe Road Housing Development is close to Thamesmead, an area which is the subject of £4bn regeneration plans.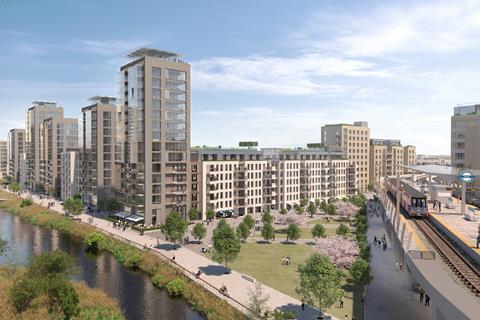 Lifschutz Davidson Sandilands has drawn up a concept masterplan for Thamesmead Waterfront (pictured) which was unveiled at Mipim this week.
Lendlease and Morgan Sindall are the final two bidders vying to work with Peabody to build 11,500 new homes in the London Borough of Greenwich. The winner, who will be chosen this summer, will also help transform 1m sq ft of town centre commercial and leisure space.
The site has 2.5km of undeveloped river frontage and extends to almost 250 acres just east of Woolwich. It currently features green space with open grassed and wooded areas, two major lakes and an existing town centre.
The scheme is the biggest undertaken by Peabody in its 156 year history.
The housing association has also announced a major refurbishment of existing homes on the other side of Thamesmead – investing at least £40m over 18 months upgrading windows in 19 towers and improving energy efficiency on the South Thamesmead estate.
The Felixstowe Road competition site is next to the elevated Harrow Manorway flyover and is located within the Abbey Wood and South Thamesmead Housing Zone, which will see radical change including the delivery of new homes over the next 10 years by Peabody.
The design contest is being run by RIBA Competitions on behalf of a partnership between the London Borough of Bexley, its arm's length development company BexleyCo, and Peabody.
The project will be one of BexleyCo's first developments, having been established in 2017 to secure more housing in Bexley.
Expressions of interest need to be in by April 16. For the selection questionnaire and more information visit www.architecture.com/Competitions
Up to five teams will be shortlisted and invited to participate in the design and tender phase. An equal honorarium of £8,000 (+VAT) will be paid to each team that submits a compliant final tender and gives a clarification interview presentation.