Institute's honorary secretary sends 'cease and desist' letter to Elsie Owusu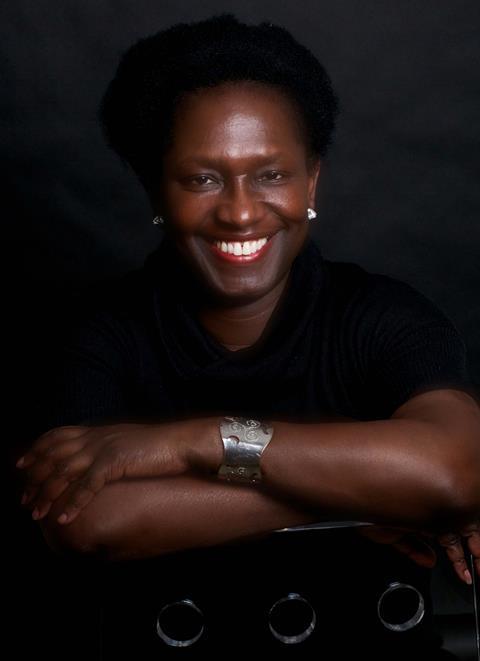 The RIBA has written to one of its own presidential candidates ordering her to stop making "damaging allegations" about the institute.
Kerr Robertson, the RIBA's honorary secretary, wrote a "cease and desist" letter to Elsie Owusu after she suggested the chief executive, Alan Vallance, earns six times the average architect's salary.
This amounted, he said, to a "flagrant breach of confidentiality, is unsubstantiated and is damaging to RIBA and its Chief Executive Officer. In particular, details of the Chief Executive Officer's salary are business sensitive and personal to him".
Owusu said she made the remark at a presidential hustings in Leeds last week after questions about remuneration and the sale of RIBA Enterprises. The average architect's salary is around £40,000.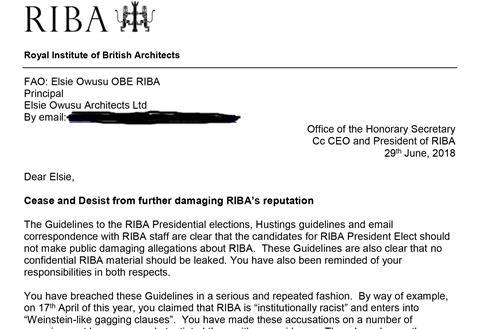 Robertson accused Owusu of breaching the guidelines for RIBA presidential elections "in a serious and repeated fashion". He listed some examples of what he called her unsubstantiated allegations, including her 2015 claim that the RIBA is institutionally racist.
He added: "These public statements are very damaging to RIBA's reputation.
"This is all the more serious as you are a trustee of RIBA, owing fiduciary duty of care to the organisation whose interests you are expected to preserve and promote.
"As Honorary Secretary, it is my role to preserve the governance and charitable function of RIBA. Your recent media activity is promoting your personal interests, running for Presidency of the RIBA, over and in breach of the duty of care and fiduciary standards of service you owe the organisation.
"I am therefore obliged to ask that you cease and desist from making further, damaging public statements about the RIBA, whether in the press, at the Hustings, on social media or any other public forum. As Honorary Secretary I will take the necessary measures to protect the reputation and standing of our professional body, for RIBA, its Council and all of its members.
"I would welcome the opportunity to discuss this matter with your personally and I know that our President and Chief Executive would join me in entreating you to work with RIBA and not against its best interests."
Owusu wrote back to him, copying in press and some of her supporters: "I merely quote a tweet from Prof Michael Stacey which stands unchallenged. Members who pay their subscriptions have a right to know how their money is spent and I will not be silenced. You will receive a formal response in due course."
She described the cease and desist letter – which can be a precursor to legal action – as a "blue frightener" and said she was intimidated by it but reiterated her refusal to be silenced.
"This letter will have been pored over by a lawyer which means members' subs are going into this kind of caper," she told BD.
The final hustings is in London tonight at 76 Portland Place. The other candidates are Alan Jones and Phil Allsopp.
UPDATE
The RIBA issued statement this afternoon saying: "This is not 'gagging', it is standard charity governance and a requirement of the regulator. As outlined by the Charity Commission, trustees (RIBA Council members) have a duty to act in the best interests of the charity at all times, working collegiately with other trustees and the CEO. Should a trustee be seen to act in a manner that is not in the best interests of the organisation, or put their own personal interests above of or in breach of their role as trustee, fellow trustees are required to address this. The presidential candidates were advised at the start of the election that they are required to conduct themselves in accordance with requirements of trustees for the duration of the campaign.
"The RIBA promotes and welcomes debate among members. Our presidential hustings event this evening will be live-streamed and we encourage members to attend or watch on YouTube."