£3.1m project brings grade II* brutalist landmark up to scratch
Purcell has announced the completion of its £3.1m repair and refurbishment programme for the grade II* listed Clifton Cathedral in Bristol.
Work started on the building – properly known as the Roman Catholic Cathedral of SS Peter and Paul – in 2015 and required 86 tons of replacement lead for the building's pitched roof, among a litany of other work.
Designed by Ron Weeks of the Percy Thomas Partnership, the cathedral was built between 1969 and 1973, and praised for its "serenity and simplicity" and the "modest theatre-like composition of its irregular, elongated hexagonal plan".
However, Purcell said the structure was never fully watertight – a situation the now-complete works have rectified, meaning the project also had to address four decades of damage caused by water ingress.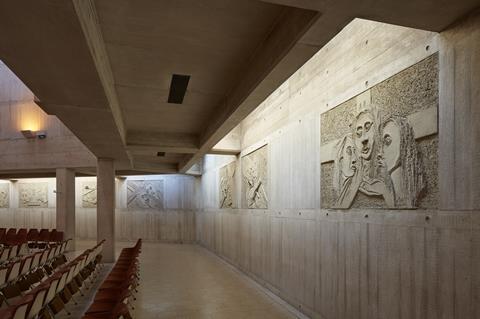 Clifford Martin, a partner at Purcell's Bristol office said the project had to balance the need to make the building watertight, safe, and open to use without reducing the "rigour and quality" it displayed as a superb exponent of late brutalism.
"The works have been undertaken with the intention to both repair and protect the building, and to magnify and celebrate its original design and detail," he said.
"The cathedral, in common with many buildings of its type and era, was built in difficult times. Our aim for the repairs projects was, at all times, to consider what the intent for its design and execution had been in order to remain true to the building's principles."
Purcell's work retains the brutalist building's high-quality concrete aesthetic, which in many areas was distinctively board-marked with the coarse grain of Russian Redwood planks.
Work also included updating the cathedral's glazing, the installation of an ultra-bright LED lighting system that Purcell said maximised the potential of the original lighting plans, and the installation of a redesigned heating system.