Heritage architect says nervous clients are behind near-quarter fall in pre-tax profit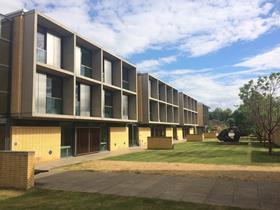 Purcell has blamed clients worrying about Brexit for falling turnover and profit last year.
The heritage architect, which last week landed work on the National Portrait Gallery refurbishment with Jamie Fobert, said income fell 5% to £20.2m, while pre-tax profit slumped nearly a quarter to just over £2m.
In a statement accompanying its results, the firm said: "Turnover decreased due to the uncertainty following the Brexit referendum and the subsequent downturn in new business."
More than 90% of its turnover comes from the UK where its schemes include new graduate facilities on the campus of Arne Jacobsen's grade I-listed St Catherine's College, Oxford (pictured).
Staff numbers at the year end stood at 283, down from 302 last time, although its wages bill still went up – by £115,000 to £10.8m. The highest-paid employee, who is not named, picked up £147,000 – down from £240,000.
The work on the National Portrait Gallery off Trafalgar Square includes increasing gallery and public visitor space by 20%, revamping the entrance and creating a learning resource centre. The project will also include rehanging the gallery's collection.