Architect picked from 18 practices to design City of Culture pavillion
Chilean architects Pezo von Ellrichshausen has unveiled its Hall for Hull installation which was commissioned by the RIBA for Hull's spell as UK City of Culture.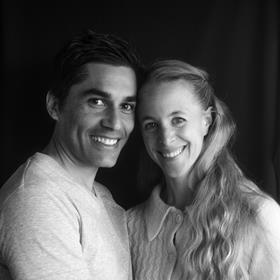 The practice collaborated with Swiss artist Felice Varini to create a new "outdoor room" for the city in Trinity Square, outside Hull Minster.
It is composed of 16 galvanised steel columns arranged in a grid.
From a distance the columns give the impression of solidity and monumentality but as visitors approach the view changes as perforations across the columns' frosted skin create a feeling of light.
Close up, visitors discover they can enter the hollow 6m-high columns which are open to the sky.
The playful optical illusions continue with the artwork applied by Varini. Through his practice of op-art, Varini has created three hand-drawn, delicate artworks across the columns that distort and redefine the otherwise rigid geometry of their solid arrangement, challenging perceptions of perspective and scale in this particular public setting. Each artwork aligns from a different viewpoint across Trinity Square, encouraging visitors to meander through the columns.
Mauricio Pezo and Sofia von Ellrichshausen were picked from a shortlist of 18 emerging and established architecture practices by a jury including RIBA head of exhibitions Marie Bak Mortensen, Sam Jacob of Sam Jacob Studio and Design Council executive director Sarah Weir.
The duo said: "This installation forms a temporary hypostyle room without a roof, with massive but almost immaterial columns barely open to the sky and to the immediate surroundings.
"The empty stone-paved square is challenged by the size and disposition of a regular open grid and each column (two metres wide and six metres high) is in fact an inhabitable room with a single entrance pointed to a different direction.
"The silent vibration of glimmering lights and shadows, together with the very indifference of the grid, is altered by three delicate motives drawn in the air by Swiss artist Felice Varini, which can only be seen towards precise vanishing points."
Sam Hunt, executive producer of Hull 2017, said A Hall for Hull would encourage people to see and experience the city in new ways.
It will be in place until November 11.