In his first piece for BD Joe Morris says small creative businesses are doing their best to hold their own against the challenges posed by Trump and Brexit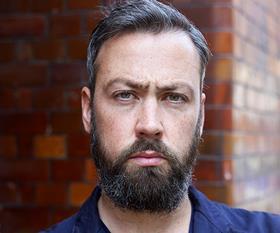 A fridge magnet recently caught my eye; 'Fuck 2016' it exclaimed. The same, it seems might be said for 2017; a seamless continuation of the previous year's dirge. Just pause for a moment and reflect upon the news that the United States' Department of Homeland Security is looking for teams to design and build US president Donald Trump's controversial southern border wall. The winning teams will erect a series of prototype wall structures close to the 3,201km long US-Mexico border. The project, which featured prominently in Trump's presidential campaign, is expected to cost up to £25 billion and take three and a half years to complete. At second glance, there are currently over 200 expressions of interest…!
As a consequence, I repeatedly find myself seeking solace amongst snippets of uncannily accurate satire (a Golden Age apparently). For example, Alec Baldwin's triumphant caricature of Donald Trump alongside Melissa McCarthy's equally captivating caricature of Sean Spicer. Consider also the 'global' Women's March on 21January, in which millions took to the streets of many world cities manifesting the deep set feeling of anger these political events represent. Glimmers of hope. Rays of sunshine.
What I take from these shows of defiance, is the 'coming together' this plague of chaos creates. Out of the ashes type stuff…
The UK psyche is one that revels in self-satire reaching its pomp in the late 1980's through the eyes of Monty Python. Fast forward to BREXIT 2016, and a 4-minute sketch in which Patrick Stewart, the Prime Minister, addresses his Conservative cabinet; its comedy roots clearly Python. 'What has the European Convention of Human Rights ever done for us?'…apart from the right to a fair trial, to privacy, to freedom from slavery and torture, freedom of religion, freedom of expression, as well as peace in Northern Ireland through the Good Friday Agreement…all of course drafted by British legal experts after the second world war. I need not highlight the irony here.
Irony, satire, and a self-effacing absurdity. All of it. A monumental sick joke. Working within the field of architecture in the world city of London, directing a practice of some 50 or so multi nationals, the joke appears to be on us all. An expansive, evil, filthy joke.
I, along with many of my closest friends and contemporaries have invested heavily over years into emerging design businesses against a ruthless and competitive market environment which seemingly takes no prisoners
I remember watching with horror last year, with the realisation that a racist, misogynist, hypocrite would be elected as the leader of the most powerful country in the world. We waited for global Armageddon, but surprisingly saw US share prices rise strongly shrugging off fears that a Donald Trump election victory could lead to a large Wall Street sell-off. It seems that nothing makes sense anymore; that common wisdom has no place in this new world order. Is Trump's influence on the strength of the US Share Index something we should reflect on 'positively' for UK markets and the construction industry, itself litmus for the health of the economy? Obviously a rhetorical question.
Back home in Hackney, I, along with many of my closest friends and contemporaries have invested heavily over years into emerging design businesses against a ruthless and competitive market environment which seemingly takes no prisoners. And all of this through what seems to have been a seven-year financial depression, where capital cost is increasingly the only driver for qualitative place making; an oxymoron, clearly.
But in-spite of this seeming impossible context, against these odds, my generation of optimists continuously invests in people, in training, in support structures, and in work places at great expense. We are a growing band of brothers and sisters, an emerging generation of practices, ranging from one man bands to businesses numbering 50-60 people, where the approach to thinking and designing seems different to the generations above us.
We are grass roots, community based, collaborative, cooperative, rich in culture and meaning; we are local, global, innovative, technical, lyrical, contextual, meaningful, appropriate; we have subverted and converted the way and the place of work, adapting methods, exploiting technology, celebrating flexibility and diversity; we are fighters; we are the place makers; we are the community builders.
We are the Brits, the Portuguese, the Belgiums, the Irish, the Finns, Danes, Italians, Greeks, Bulgarians, Spanish, Slovakians, French, Germans, Romanians, Australians, Koreans, Mexicans…working together, problem solving, creating and serving a diverse city, with no walls.