Birmingham has launched its new vision for the city centre. Could shared living play a key role in delivering this ambitious plan, asks Umesh Luharia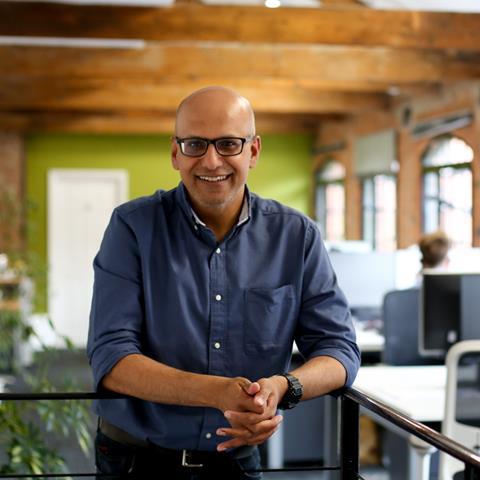 Birmingham is seeing the benefits of growth from business investment, the development of its universities, the influence of HS2 and the successes and legacy of the 2022 Commonwealth Games. Also, following the launch of the draft Our Future City: Central Birmingham Framework 2040 at UK REiiF recently, there is a clear pathway to how the potential investment and development could transform Birmingham into a greener city.
The city has already become a significantly more attractive place to live and work over recent years. And we are witnessing an ever-evolving skyline of residential towers and housing developments to meet the needs of the city's current and future population.
As part of the city's growth, the build-to-rent (BTR) model has started to flourish, though it is mainly targeted at young professionals. Compared to the private rented sector (PRS), many of these developments provide a range of managed amenities and communal space, with convenient access to the centre of Birmingham.
In a similar way to BTR, the city centre's purpose-built student accommodation (PBSA) gives a taste of this future by including amenities such as lounges, games spaces and workspaces. PBSA offers young people that first taste of "city living" and all that it can offer.
The quality of student accommodation on offer is generally high and has grown to meet the expectations of younger generations. Many of them may move onto BTR or PRS as a lifestyle choice after graduation, rather than moving out of the city.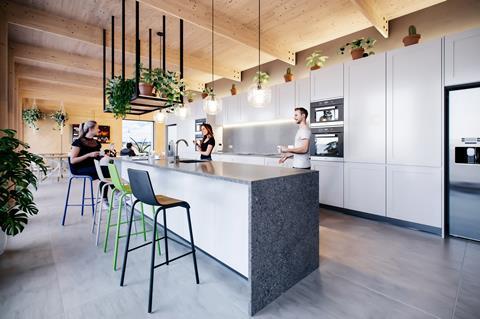 However, the affordability gap between the PBSA and the BTR sector can be significant, especially when the average graduate salary in the region is around £25,000/year. Many young people need to continue sharing accommodation to live in the city when moving on from student accommodation.
The cost for the average PBSA ensuite room can range from £640 to £800 per month to share a cluster type format of accommodation. Once you leave PBSA, current privately rented apartments in the city start at around £895 per month for a one-bed flat and can cost up to £1,500 per month for a two-bed.
To make matters worse, the added facilities of BTR developments – which can include communal space, a concierge, gyms and workspace – make them even more expensive, with one-bed apartments starting from £1,000 per month and rising up to around £1,900 for a two-bed. This means that moving from PBSA to other private rental options in the city can be next to impossible for many graduates.
Shared living, or co-living, is a possible answer to this affordability gap and it could also contribute to the Central Birmingham Framework 2040 vision for enabling more city living. Given the ongoing cost of living crisis, we continue to see homes becoming less and less affordable to buy, raising demand for private rental housing.
Shared living can offer choice in the market and can include aspects of the BTR model such as shared amenities and workspace. This means it could help the city to retain new graduates, while fostering communities between neighbours living in shared environments – helping them to grow a sense of belonging that binds them to their city.
So far, no shared living schemes have been built in Birmingham and few have gained planning consent
Birmingham City Council has recognised this growth potential and adopted the Large-Scale Shared Accommodation Supplementary Planning Document in April 2022. This mirrors progress in London, where the London Plan Guidance was adopted in January 2022 for large-scale, purpose-built shared living.
So far, no shared living schemes have been built in Birmingham and few have gained planning consent. However, it is a model that could provide more homes and more affordable options for living in the city, given that the supplementary planning document states that minimum room sizes should be 25m2 for a single-occupancy room when compared with the average 38–50m2 studio or one-bed BTR/PRS apartment.
Shared living has the potential to bridge the gap between other types of accommodation options in the city for our next generation of city-makers, so it must also provide appropriate amenities and access to city living. We should consider the density and placemaking benefits of shared living carefully, to ensure developments are successful and sustainable.
To support the sustainability and attractiveness of our city, we must ensure that shared living homes work well in their location and are near the infrastructure needed to be well connected and liveable. We should be open to the opportunities for creatively reusing existing buildings across the city, including in areas such as the Jewellery Quarter and Digbeth.
If priced thoughtfully and developed with appropriate density, shared living has the potential to offer a bridge from PBSA to PRS and BTR. It can meet the aspirations of recent graduates and young professionals who want to be in the city with the amenities it can offer.
There is the opportunity to help build a sustainable and diversified night-time economy, helping Birmingham to achieve its potential as a 24/7 global city. And shared living could also contribue to more sustainable neighbourhoods and communities by increasing footfall, vitality, and movement, and moving the city a step closer to its strategic vision for central Birmingham by 2040.
Postscript
Umesh Luharia is a director at ADP Architecture