Office building emerges from a Danish fjord
Artist Olafur Eliasson has completed his first building, a curvaceous brick office building which rises out of a fjord in the Danish town of Vejle.
The Fjordenhus, commissioned by financial firm Kirk Kapital in 2011 as its headquarters, was originally due to complete in 2016.
It is described by Eliasson as a contemporary interpretation of the "total work of art". He also designed the furniture and lighting and some site-specific works of art.
Its four linked glazed brick cylinders rise to 28m. It is reached by a footbridge from a man-made island on the edge of the city.
The varying floor plans of the different levels are organised around circles and ellipses, with specially designed furniture and lights, and are connected by spiral staircases and round vestibules. The double-height ground floor, which is open to the public, is permeated by the fjord and contains two aqueous zones with site-specific artworks by Eliasson.
The project was completed under the auspices of Studio Olafur Eliasson but its architectural projects will in future be credited to Studio Other Spaces, the practice Eliasson founded with his current head of design Sebastian Behmann in 2014.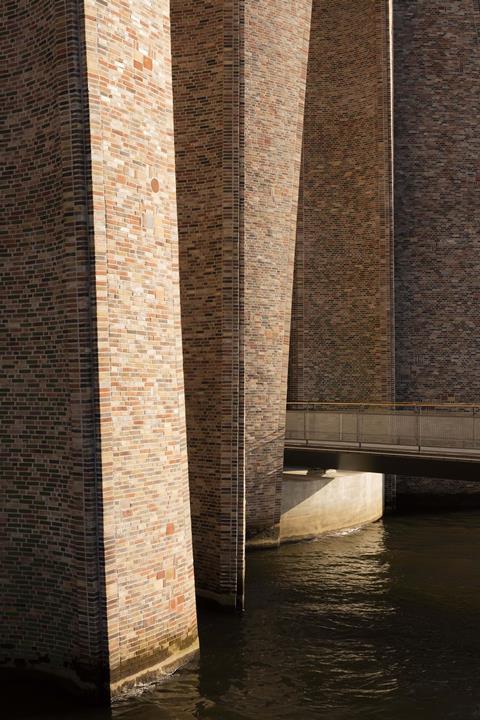 They said Studio Other Spaces would allow them to carry out large-scale interdisciplinary and experimental architectural projects of a scope similar to Fjordenhus. A number of projects are currently in development, from Paris to Addis Ababa.
Eliasson said the project had allowed him to turn years of research on perception, physical movement, light, nature and the experience of space into a building "that is at once a total work of art and a fully functional architectural structure".
He said: "In the design team, we experimented from early on with how to create an organic building that would respond to the ebb and flow of the tides, to the shimmering surface of the water, changing at different times of the day and of the year.
"The curving walls of the building transform our perception of it as we move through its spaces. I hope the residents of Vejle will embrace Fjordenhus and identify with it as a new landmark for the harbour and their city."
Behmann added: "The basic form of Kirk Kapital's headquarters was inspired by the harbour's surrounding architecture. We carved precise volumes out of the building's massive brick cylinders, subtracting the interior space out of the overall volume. These negative volumes form the elliptical cuts in the facade and act as independent spaces."
The local architect was Lundgaard & Tranberg Architecture but the scheme s credited to Olafur Eliasson and Studio Olafur Eliasson.
Eliasson's previous architectural projects have been collaborations with other architects. His Serpentine Gallery Pavilion 2007 was designed with Kjetil Thorsen. He designed the façades for Harpa Reykjavik Concert Hall and Conference Centre (2005–11) with Henning Larsen Architects.