East London practice's design for rural Danish project approved
Young east London practice Galmstrup has secured permission to create a 1,200sq m Museum of Monastic Life in the Danish countryside.
The development will be contructed in a 2.4ha park overlooking the Mossø lake, around 20km south-west of Aarhus, which features the ruins of a medieval monastery. It will contain a selection of skeletons and artefacts excavated from the site, as well as viewing areas and research facilities.
Galmstrup founder Anne Marie Galmstrup said the practice's starting point for the project had been to maintain the ruin and collection together on the heritage site at the same time as respecting the surrounding nature.
"The museum is envisioned as a series of buildings telling the story of the monks' daily life and interventions while offering experiences in nature," she said.
"The architecture of the exhibition building plays on the reinterpretation of the original monastery church's tall pointed arch structures."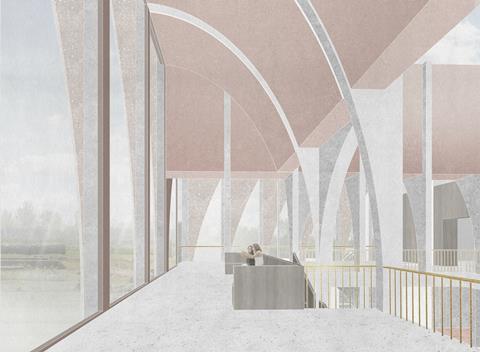 The project also features a research academy with a courtyard for larger works that are under development, a tree-top-level viewing platform that allows visitors to better appreciate the extent of the monastery's landscape, and a winter garden for researching plants from the time when the monastery was active.
Galmstrup said the proposals had won a design competition in March this year and the project had just been granted local authority approval to proceed.
Galmstrup founded her practice, which is based in Hackney, in 2015. She had previously been an equity partner at Henning Larsen Architects in Copenhagen. Prior to that the Bartlett graduate worked at Ushida Findlay Architects in London.