Shimmering Serpentine café heads 10-strong project
Work is set to start on the construction of a series of bespoke café and kiosk buildings designed by Mizzi Studio for London's Royal Parks – the most notable of which is a brass-canopied structure earmarked for a site opposite the Serpentine Gallery.
The practice won a competitive bid in conjunction with food-service business Colicci that will see the replacement of coffee kiosks on existing sites in Hyde Park, Green Park and St James's Park with new freestanding structures.
Mizzi said it considered the buildings to be a "family of individual curvaceous structures" with a "graceful tree-like canopy". The practice said seven of the new kiosks would be clad in steam-bent English oak, while two would be covered in sculpted tubular brass.
Mizzi said the Serpentine café, which is a stone's throw from Zaha Hadid's Serpentine Sacker Gallery, was "dramatic, swooping and sinuous" building with the appearance of a "giant golden cape being pulled through the air over the entire structure".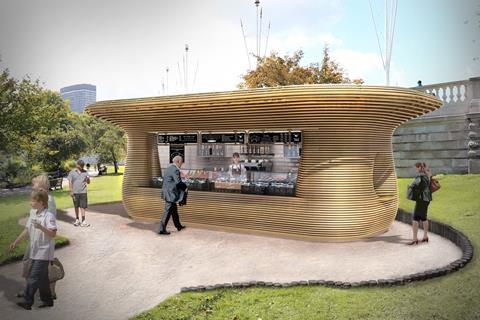 Studio founder Jonathan Mizzi said the café building had been inspired by "both the lake itself and a stingray's flight".
"It is an honour to have been entrusted with such a high-profile project of this size and scale," he said.
"The kiosks form an important part of The Royal Parks' heritage by serving the public with refreshments and acting as local information points.
"The design challenge was to create a family of functional sculptures with a goal to continuously surprise and delight while further enhancing the visitor's experience."
Mizzi said construction was due to begin on the Serpentine Café in September for completion before the end of the year.