Scheme doubles size of existing terminal building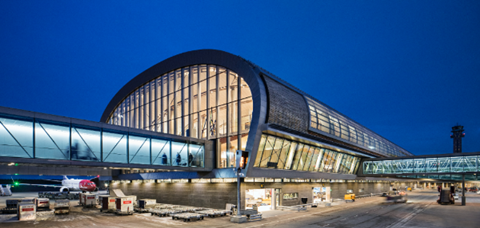 Nordic-Office of Architecture has completed work on the expansion of Oslo Airport, which has been dubbed the "greenest in the world".
The 115,000sq m scheme in Norway's capital uses snow as a coolant and has achieved the world's first BREEAM 'Excellent' sustainability rating for an airport building.
The expansion doubles the size of the existing terminal building with the addition of a new, 300m long pier, while the airport's capacity will rise from 19 million to an anticipated future capacity of 30 million.
Snow from the runways will be collected and stored during wintertime in an on-site depot to be used as coolant during the summer.
Natural materials have been used throughout the building with the new pier clad in timber sourced from Scandinavian forests, while recycled steel and special concrete mixed with volcanic ash has been used throughout.
The firm, which has an office in London as well as Oslo and Danish capital Copenhagen, said carbion dioxide emissions will be cut by 35%.