US sports brand tight-lipped about location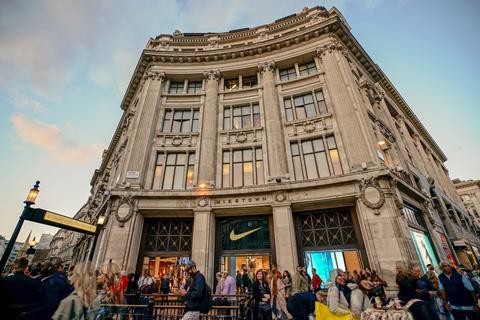 Nike has chosen BDG to design its new London HQ - but not revealed where this will be.
The London architect and interior design practice will deliver Nike's new UK base after the American sports giant announced it would vacate its current office when its lease runs out in 2020. This is in Soho and is a stone's throw from its flagship Oxford Street "Nike Town" store (pictured above).
BDG chief creative officer Colin Macgadie said he was delighted to be working with the $34.4bn-turnover (£26.4bn) sporting behemoth.
"It was clear from our early meetings with Nike that we had a common belief in the benefits that a strategically designed and integrated brand environment can offer both the business and its people," he said.
"We look forward to becoming immersed in the Nike brand and collaborating with the client to deliver a space that continues to push the boundaries of 'work' both now and for the future."
Back in 2013 when Nike was moving into its current London base, consultancy Rosie Lee was the mastermind behind the office's design.
Macgadie said the appointment by Nike topped off a "very successful year" for the studio, which has also worked with Lego, MoneySuperMarket (pictured below) and Sony Pictures in the past year.