News comes as $1.5bn One Barangaroo tower becomes Sydney's tallest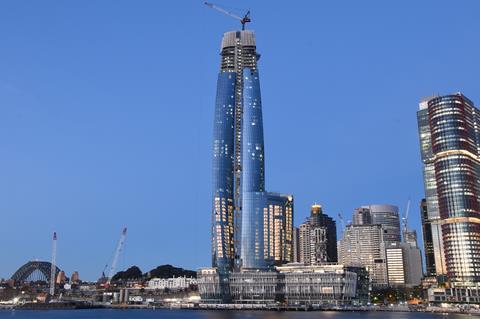 Wilkinson Eyre is opening an office in Sydney on the back of its $1.5bn One Barangaroo project in Sydney.
The Stirling Prize-winning practice has already picked up other work in Australia and is hoping a permanent presence in the country will allow it to leverage the publicity surrounding Barangaroo.
The 275m tower, a Crown hotel and casino topped by flats beside Darling Harbour, is one of Australia's most expensive buildings and Sydney's tallest.
The practice's founding director Chris Wilkinson has described learning from their experience in Singapore after their Gardens by the Bay project completed and didn't generate further work despite attracting 50 million visitors. He put that down to the fact that their team was based in the client's office and when the job ended they just packed up and came home.
"We learnt a lesson that you have to be there, really: take advantage of it," he told the Australian Financial Review. "And it'll be the same at Barangaroo. People will say 'that's a nice building', but they won't say 'who did it, who's the architect?' – so we feel we need to be around."
He will no doubt also have been watching peers like McAslan, Fosters and Grimshaw making inroads in Sydney.
Wilkinson said Stuart Dow, an Australian who has been with the practice for several years, had relocated back downunder to head up the new studio and would be followed by colleagues from London as those projects gear up.
He said: "While One Barangaroo was designed from London, we have now committed to an office in Sydney to field work there and across the country.
"As well as further projects with Crown Resorts, we are undertaking the Brisbane Park Vision, converting a former golf course into a public park for the city, and are engaged with prospective clients on several sites countrywide."
Sectors they are looking at include education, cultural, commercial and infrastructure, with metro stations and more towers on their wish list.
The fledgling studio suffered a disappointment in March when its hopes of winning the $650m Cockle Bay project in Sydney were dashed. It was beaten to the 183m tower by fellow finalist Henning Larsen.
Wilkinson Eyre already has offices in Paris and Hong Kong as well as a presence in North America.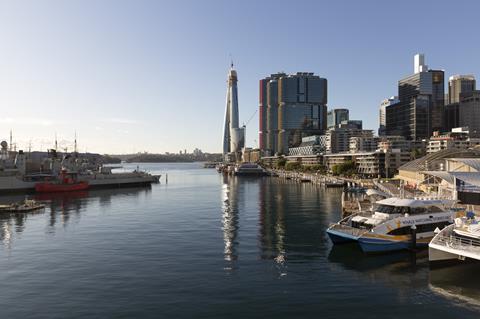 One Barangaroo proved controversial even before Wilkinson Eyre won it in 2013. Local architects objected to the all-foreign shortlist which also featured KPF and Adrian Smith & Gordon Gill and damned the entries as "all a bit Macau". But client James Packer, a media and casino tycoon and chairman of Crown Resorts, predicted the winning design would be Sydney's most iconic building since Jorn Utzon's opera house.
Its topping out was accompanied by a statement that after four years of construction, the hotel is on track to open in December, with residents set to move into the flats in the first half of 2021.
Its glitzy neighbours include the completed International Towers by Rogers Stirk Harbour & Partners and the under-construction One Sydney Harbour by Renzo Piano Building Workshop.
Wilkinson said of the design: "We thought this spectacular site fronting Darling Harbour would benefit from a sculptural form in contrast with the other buildings in the CBD.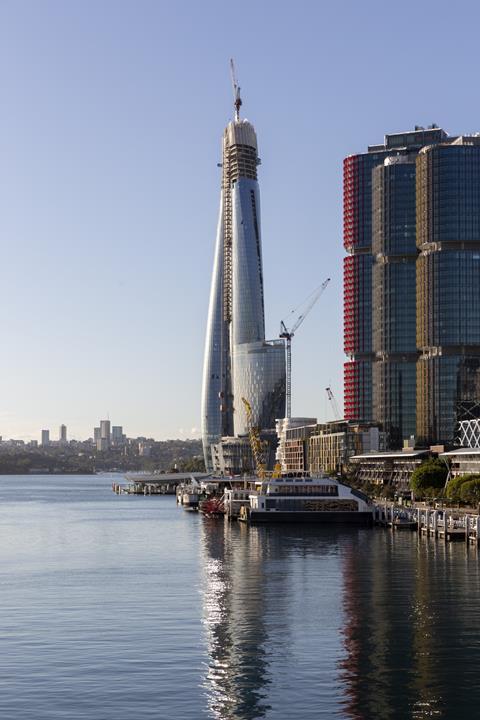 "The building is conceived as an inhabited sculpture made of three petals that twist as they rise up together. The sculptural form has pushed known technology almost to the limits, with helical perimeter columns in concrete, complex glazing systems to deal with the changing curved forms and the marble tracery around the podium."
Construction challenges include the installation of 10,000 glass panels, of which 80% needed to be sized individually. Some 237,888 tonnes of concrete and 20,000 tonnes of steel have been needed to complete the structure.
Two years ago Make announced its Australian team had grown from one to 24 staff in five years. In 2017 workloads in Australia grew by more than a quarter.