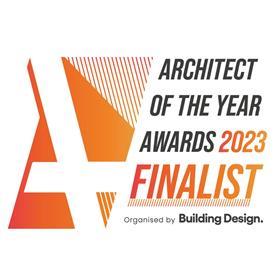 Finalist for Public and Social Housing Architect of the Year Award 2023, Shedkm guides us through the specification challenges present at Charles Folkard Mews, Greenwich Housing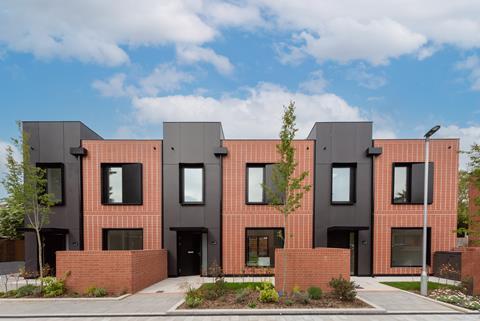 The judges for this year's AYAs were impressed with Shedkm's body of work, as the practice was named a finalist for Public and Social Housing Architect of the Year.
In this series, we take a look at one of the team's entry projects and ask the firm's London director, Francesc Cantarell, to break down some of the biggest specification challenges that needed to be overcome.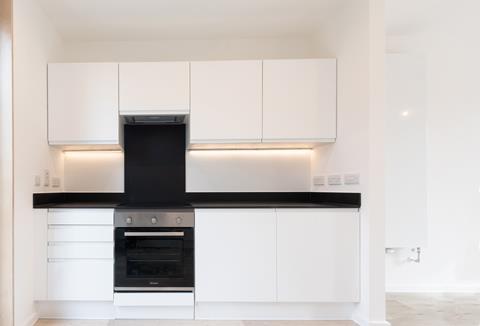 What were the biggest specification challenges on the project?
Charles Folkard Mews was one of the four initial projects commissioned by the Royal Borough of Greenwich to revive infill or underutilised sites in different locations across the borough.
The base specification was driven by a combination of both the council requirements and its delivery through modern methods of construction (MMC). Occasionally, the council specification had to be reconciled with the constraints of offsite manufacture, but the main challenge was to limit the range of the external material palette to take advantage of the repetition principles of MMC.
Simultaneously, the design team needed to establish a set of products versatile enough to adequately respond to the nuisances of each site. Transportation also conditioned the type of materials which we could use externally, limiting the choice to cost-efficient, lightweight products.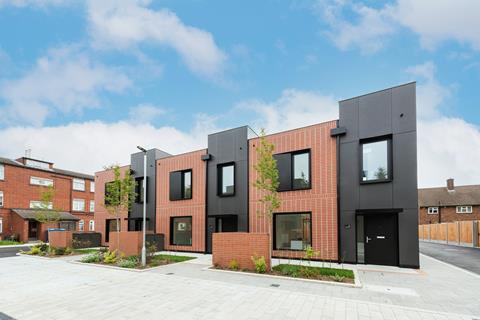 What were the key requirements of the client's brief? How did you meet these both through design and specification?
The client's brief was extensively detailed. It included net-zero carbon operational aspirations, high accessibility standards, and a very prescriptive specification compiled over the years which was based on the council's experience and focused on cost efficiency, durability and maintenance.
Despite the constrained nature of the site and budget, each home was designed with large, picture windows to maximise natural light and with simple, spacious and practical interiors. A fabric-first approach to the design and the use of highly efficient heating and mechanical ventilation systems resulted in very low energy requirements.
Occasionally, the specification had to be adjusted to address new regulations or to take advantage of MMC. We actively engaged all parties in the conversation to seek consensus and worked with the main contractor and the manufacturer to find the best alternatives.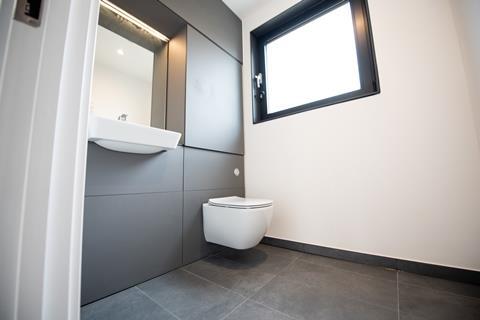 What are the three biggest specification considerations on the project type? How did these specifically apply to your project?
The project was meant to be delivered using MMC category 1 (volumetric), which defines a set of constraints (maximum module dimensions, relatively increased footprint due to adjacency of loadbearing walls, service strategies, module connections, etc.) which were embedded in the design from the outset.
The units were split into the 'engine' modules, clad in dark fibre-cement boards, which contained the majority of services and wet elements such as kitchens and bathrooms, and 'living' modules which were used for living and sleeping rooms. This strategy simplified services connections and module fabrication. Circulation was reduced to its minimum to compensate for the slight additional space occupied by adjacent load-bearing walls, which created light and spacious houses.
Repetition was key and tested house layouts were reused across different sites for efficiency. Only small alterations were made to the location of windows and doors which had to respond to site constraints.
A very limited, but versatile, material palette (brick slips, cement board and standing seam cladding, and dark aluminium fenestration) contributed to manufacturing efficiencies whilst keeping a flexible approach to the overall look and feel of each site. This facilitated achieving planning consent for each of the different sites in record time.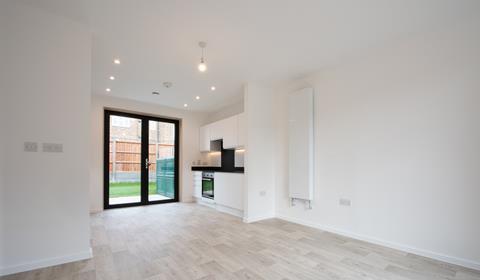 What did you think was the biggest success on the project?
The project successfully challenged what are considered to be the design stereotypes of socially rented housing, with a focus on the quality and generosity of inside and outside spaces.
An underutilised garage site was converted into a secluded housing environment with opportunities for doorstep, street and private garden play which has significantly improved the existing public realm with additional space for play and recreation for the benefit of new and existing residents alike.
The houses are all set lower than the surrounding context of three storeys at two storeys to reduce overlooking and overshadowing and to help the homes settle comfortably on the site. Existing footpaths and the garage court access road have been retained and resurfaced, with lighting improvements to create a safe and wheelchair-accessible environment.
Living areas and bedrooms have been designed with views connecting to the gardens, communal outdoor areas, and wider site. Window arrangements, tree planting and adjacencies to pavements strike a balance between individual privacy and connections to the street.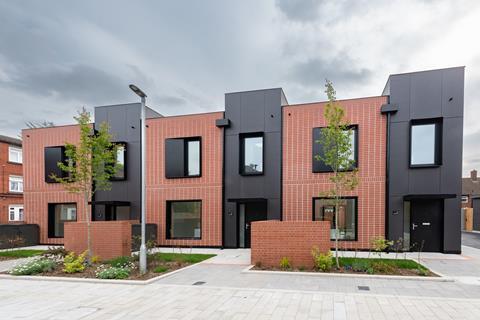 Project details
Architect shedkm
Landscape architect BCA Landscape
Main contractor Elkins Construction
Offsite manufacturer Ideal Modular Homes
M&E Hive
Structures engineer Conisbee
Planning consultant DP9
Fire engineer Affinity Fire
Contract administrator Blakeney Leigh
Acoustics Acoustics Plus Ltd
Transport Paul Mew Associates
Daylight eb7
Fenestration Aluprof
Board cladding Equitone
Brick slips P-Clad
Shrouds/canopies Xeco Engineering
Rainscreen insulation Rockwool
Facade membranes Rothoblaas
Fire protection Fermacell
Plasterboard British Gypsum
Roof access Coxdome
Height safe working system Premsafe
Posi joists and trusses Jackson Timber Ltd, Donaldson Timber
Glulam Binderholz
Staircase Edwards & Hampson
Kitchens Magnet
Internal doors RW Joinery
Bathroom tiles Johnsons
Lighting Aurora
MVHR Ventaxia
Hot water cylinder and air source heat pump Joule
ASHPs Samsung
Our "What made this project" series highlights the outstanding work of our Architect of the Year finalists. To keep up-to-date with all the latest from the Architect of the Year Awards visit here.