Reardon Smith proposals include a restaurant with a retractable roof and a new penthouse suite
Westminster council is poised to approve an extension to the roof of The Dorchester, one of the world's most prestigious hotels.
Plans drawn up by hotel specialist Reardon Smith Architects will see large parts of the Mayfair building's top floor demolished and rebuilt to provide a new restaurant complete with a retractable roof.
The hotel of choice for Elizabeth Taylor and Richard Burton during the pair's stays in London in the 1960s and 1970s is looking to "future-proof" the grade II-listed Art Deco building, according to planning documents.
The scheme will also create a new luxury suite, refurbish an existing suite and see the construction of a new dome skylight and an array of upgraded circulation areas.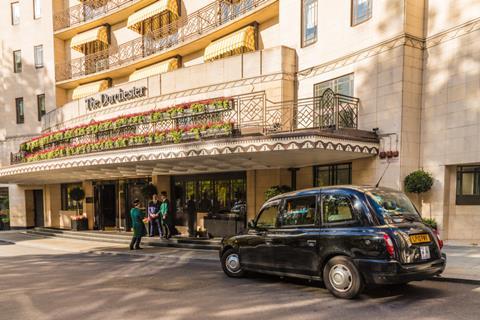 However, the £7,500-a-night Harlequin suite, where Taylor stayed during filming for the 1963 film Cleopatra, and where she spent five of her honeymoons, will remain untouched.
The 10-room suite and its famous pink marble bathroom is placed in the middle of the ninth floor overlooking Hyde Park and most of the extension work is planned to take place either side of it.
On the northern side of the suite, the 123sq m Terrace Penthouse suite will be extensively remodelled to open up its multiple rooms into a large open plan space.
A block on the northwestern corner of the building currently occupied by water chilling units will become a new triple-aspect penthouse suite with views over Hyde Park, Westminster and Marylebone.
Behind these two suites the existing Audley Penthouse suite will be removed and replaced by two rooms for security staff, while the Regal Lift, an original 1931 elevator surrounded by an ornate metalwork grille, will be vertically extended from the 8th floor where it currently terminates to the 9th floor.
On the southeastern side of the floor, the existing rooftop lounge bar will make way for an expansive new restaurant with a vaulted roof which can fully retract. Behind this will be a private dining room leading onto a terrace with views over the West End.
Westminster council's planning officers have recommended the scheme for approval ahead a planning committee meeting on 19 September.
The Royal Parks, a charity which manages parks in the capital owned by the Crown, including Hyde Park, objected to the proposals due to the massing of the roof extension.
However, the planning officers concluded that views from Hyde Park would not be adversely affected and the scheme would comply with local planning guidelines.
The project team also includes Gardiner & Theobald as cost consultant and project manager, planning consultant Montagu Evans, structural engineer HLN Group and MEP engineer PSH Group.